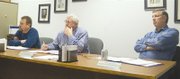 The Port of Sunnyside will urge the Sunnyside City Council to vote no next Monday on a proposal to annex land along South Midvale Road.
The effort was noted last night, Monday, during the Port of Sunnyside commissioners' meeting.
According to a memo to commissioners from port executive director Amber Hansen, opposition to annexing the land for a proposed RV park is related to city codes.
"The primary concern I'm referring to is the annexation has not yet been completed and the city has issued building permits and is not holding the developer to what the building codes call for," she explained this morning.
Specifically, Hansen said city codes call for no more than 20 RV spaces per acre, but the developer is being allowed to have 40 spaces per acre.
Commissioners agreed with Hansen to have attorney Jamie Carmody speak on the port's behalf in calling for council members to turn down the annexation request.
In other cooperative efforts involving the city, port commissioners last night agreed to focus on the topic of developing a safe, vibrant and welcoming downtown for Sunnyside when the port meets with school and city officials in a joint meeting next Tuesday, Jan. 11, at 6 p.m. at Bon Vino's.
Port commissioners will also meet with the Sunnyside City Council at 6 p.m. next Monday at the Law and Justice Center for the annual SIDC meeting.