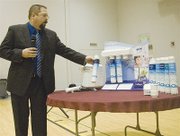 The first step towards helping Lower Valley families deal with nitrate pollution in their drinking water is literally in the mail.
That was the message yesterday, Tuesday, during a press conference held at the Sunnyside Community Center. State and county officials were on hand to announce water testing kits were in the mail to 8,000 Lower Valley homes that rely on a private well.
With one-in-five of those wells - about 1,600 - likely contaminated by nitrates, Yakima County is spearheading an effort to provide water filtration systems to families who have nitrate levels higher than the federal maximum of 10 parts per million.
The city of Sunnyside's municipal well system, by contrast, has a nitrate level of only about one-half part per million.
Nitrate can cause blue baby syndrome in infants and illness for those with low resistance to infection.
Earlier this year, State Senator Jim Honeyford of Sunnyside obtained $500,000 in grants to address the nitrate problem in Lower Valley drinking water.
Accordingly, the message yesterday was not only to test your well water, but if there are high levels of nitrates get the results confirmed by a certified lab.
Families with certified nitrate issues in their drinking water and who have health concerns - such as an infant younger than 12 months, a pregnancy or low resistance to infection - can receive a reverse osmosis filtration machine for free.
Those who rent must obtain permission from their landlord to install the filtration system.
In addition to health issues, the county's public works director, Vern Redifer, said a "first come, first served" system will be in place to prioritize applications for free water filtration systems received by Jan. 28.
For those with nitrate issues but who don't meet the health concern requirements, Redifer said Culligan International is offering the system at a discount of between 31 to 51 percent. At the discounted rate, Culligan will charge between $695 to $990 per filtration system.
Redifer said a condition for receiving the free filtration system is that the user is responsible for changing the filters on a regular basis. Culligan is also offering the filters and a maintenance program at a reduced price.
The program unveiled yesterday is good news for Jim Leidig, who uses a well to serve his property that was annexed into Grandview.
The program announced yesterday will provide filtration systems for homes in unincorporated Yakima County and within a city's boundaries.
Leidig says he has been drinking bottled water only for the past four years because of nitrates in his drinking water
"I'm glad to see this is coming to the forefront," he said. "I couldn't find a good filtration system."
Honeyford is happy to see the grant funds he obtained finally being put to use to help families like Leidig's that have problems with their drinking water.
"It's always nice to see something on the ground from what we're doing in the legislature," he said.
Most of the $500,000 Honeyford secured, about $400,000, will go towards providing filtration systems.
The rest of the money will be used to form a groundwater management group that will research the causes of high nitrate levels in the Lower Valley's groundwater.
Tom Eaton of the EPA said more than 60 sites in the Lower Valley were tested for nitrates and the results should be available this spring.
Redifer cautioned the nitrate problem isn't going away anytime soon, whatever the causes may be.
"If we could turn off every single source of nitrates today we will likely have elevated nitrate levels for many more years, a couple of decades at least," said Redifer.
Besides a hotline at 1-855-740-8429, the county website, www.yakimacounty.us has information about the nitrate program.
Also, two informational meetings are planned in the Lower Valley to help residents with their applications for filtration systems.
One is next Wednesday, Jan. 12, at Artz-Fox Elementary School in Mabton and the other is Thursday, Jan. 13, in the Denny Blaine building boardroom in Sunnyside. Both meetings start at 6 p.m.