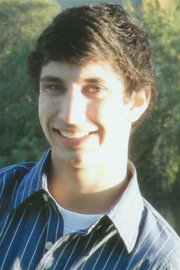 Sunnyside High School senior Ryan Rice has a multifaceted senior project in mind and he is eagerly seeking aid from local residents.
Rice's senior project is to create a 30-second commercial for a contest called Early Detection Tri-Cities, which calls for budding filmmakers to create a television spot that emphasizes the importance of early cancer detection.
Rice chose this project because it allows him to test his skills in filmmaking, lets him promote an important message and gives him the opportunity to compete with other filmmakers.
For his video, Rice is hoping to bring together cancer survivors who have benefited from early detection. Rice hopes to get at least 15 people for the project.
"I don't know how many people are willing to talk about it," Rice said. "It's a sensitive subject."
But having known several people who have battled cancer, including his own grandmother whose life was claimed by the disease, Rice understands the importance of the project and hopes cancer survivors will also.
"It's about making people aware of early detection and how it can save their life. You could be helping to save other people's lives."
Participants will read from a script written by Rice and he hopes to film the commercial this week in order to be ready for the contest's Jan. 7 deadline.
Rice first became interested in filmmaking after running for ASB vice president last year. He said people really responded to his campaign video and he is interested in testing his ability.
Along with completing his senior project, Rice's entry into the contest will earn him a chance to see his commercial played on local television, played on four radio stations and a cash prize of $2,000.
But first, Rice needs participants and he hopes the community will come out and help him.
Rice can be reached by calling 509-305-8240.