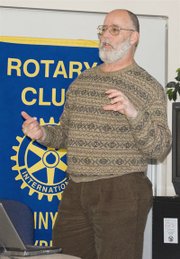 Dennis Hull works for the National Weather Service and he was in Sunnyside Wednesday morning to confirm what everyone suspected, the Lower Valley has been hit with a much whiter winter than normal.
Hull spoke to the Sunnyside Daybreak Rotary Club, focusing on survival tips for a La Nina winter.
In contrast to a dry El Nino system, La Nina brings lower than normal temperatures and higher than normal precipitation.
In Sunnyside, at least, it's already added up to 15 inches of snow this winter, and it's still only the first week of January. That's almost twice the 8.8 inches of snow Sunnyside will receive through an average winter.
Hull says a typical La Nina winter brings about 11 inches of snow to Sunnyside, so even for La Nina, it's a lot of snow for Sunnyside.
As for making it through a La Nina winter, Hull encourages travelers to make sure their gas tank is at least half full to minimize the risk of condensation build-up in the gas line.
He also says to be prepared with extra food, water, clothing, and to make sure the vehicle has plenty of traction and battery power.
Hull adds that travelers should also share their travel plans with someone in case of an emergency.
He also broke down the differences in weather terms. A winter storm watch means there could be hazardous conditions, while a storm warning indicates there will be severe winter weather that poses risks to life and/or property.
A weather advisory, Hull added, means there will be freezing rain or blowing snow.
He advises checking out conditions at weather.gov or at www.wsdot.wa.gov.
Hull noted one bit of good news for Sunnyside residents, in that no major storm systems are headed here for the next nine or 10 days.