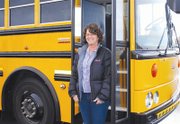 New Sunnyside School District Transportation Director Dalrie Hoyle has been on the job for just over a month. She's had to hit the ground running.
Along with settling into a brand new town, new school district and new job, Hoyle started her first week of work at the same time early November snow hit Sunnyside.
There was no time to adjust for Hoyle. She got to work right away. As transportation director, Hoyle was in her car at 3 a.m. that week, driving the roads and assessing the conditions, making the decision on whether routes needed to be adjusted or school delayed.
As it happened, school went on as usual that week, but Hoyle immediately became familiar with city and county employees, learning to work with them when roads or parking lots needed to be cleared or sanded.
Aside from the snow, Hoyle has been busy fitting into her new role. Hoyle comes from the North Mason School District in Belfair, where she acted as the assistant transportation director for three years.
But Hoyle has not always been hard at work in the administration department. In 1991, she started as a substitute bus driver with the Shelton School District after a friend of her mother said she would make a good bus driver.
Hoyle was a single mother at the time and discovered that the schedule of her job fit easily with the demands of motherhood. When her children were out of school, so was she.
A 15-year career with the Shelton School District gave Hoyle an opportunity to grow in the department. From substitute, she has had a regular route, driven a special needs bus, participated in the School Bus 'Roadeo' and worked as a router and dispatcher.
Eventually, the opportunity to serve as assistant director took Hoyle to the North Mason School District. She attended a three-year human management program at Central Washington University to qualify for the position.
At North Mason, Hoyle helped oversee the safe transportation of 2,400 students, but in Sunnyside the district size is significantly larger.
The Sunnyside School District serves more than 6,000 students. And while not every student rides a bus to school, the traffic they create in the morning and afternoon is something that caught Hoyle's attention.
Hoyle believes the heavy traffic could be a result of the schools' close proximity to each other, but she is eagerly seeking the most efficient manner to organize student loading and drop-off.
But Hoyle's focus at the moment is to maximize the efficiency of the bus shop. Two mechanics at the transportation department service Sunnyside, Mabton and Bickleton buses and Hoyle is currently looking for a third mechanic to help lighten the work load.
Hoyle is also looking forward to creating a detailed inventory list so that fuel, tools and bus parts are accounted for and used resourcefully.
Along with administrative work, Hoyle oversees 72 routes and 49 buses.
"We have a really wonderful fleet," she said. The district owns five buses manufactured in the 1990s, she revealed, while the rest are from 2000 and beyond. The newest of which, a 2011, joined the fleet a month before Hoyle arrived.
As for her employees, Hoyle hopes to bring her extensive knowledge of the transportation department to serve them to the best of her ability.
"I've done it all," she said. "I've been where they're at; I understand their concerns."
Hoyle continued, "Something I want to bring here is the team feeling, that everybody belongs. You're not going to have everybody get along with each other all the time, but there is no reason we can't work together."
But so far, Hoyle is getting along well in her job. She boasts of having a fantastic staff, a beautiful new facility to work in and a wonderfully friendly town to welcome.