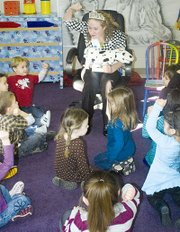 The students in Mary Schlenker's United Methodist Pre-School class in Sunnyside yesterday got a surprise visit from some very special guests. However, 'Betsy' the cow and Yakima Valley Dairy Ambassador Kristen Wedam might have played second fiddle to the squeaky cheese and yogurt the 3 and 4-year-olds got to sample.
Wedam, who is on winter break from Washington State University, visited Schlenker's class to teach the students about the nine essential nutrients a person can get from consuming dairy products. To help her explain the program, Wedam brought along a stuffed toy cow named Betsy.
As expected with a class so young, the students weren't so much as interested with the essential nutrients, as they were with other important issues concerning 3 and 4-year-olds.
"How many cows do you have?" one student asked Wedam. "What are their names?" "What color are they?" "Why do they have tails?"
One youngster asked if the cows knew they were going to become steaks at some point.
Wedam explained the cows she was talking about produced milk, not steaks. As Wedam answered all the students' questions, she got them to learn about the benefits of milk. She spoke about the benefits to teeth that the calcium and phosphorus in dairy products provide. To illustrate this, the students bared their teeth in 'squeaky cheese' fashion to show off their pearly whites.
Vitamin D, she explained, helps their bodies absorb the calcium and phosphorous. The protein in milk, Wedam added, gives them strong muscles. At this mention of muscles Wedam flexed her arms and encouraged the students to do the same.
The students also learned about Vitamin A, Niacin, Vitamin B-12 and Riboflavin. These nutrients help with the body's eyes, skin, hair, brain and metabolism.
After the presentation the students sat down with Wedam and Betsy for some squeaky cheese and yogurt.
Wedam said the students were her youngest audience to date but was pleased with their attention.
"They're so cute," she said. "They get so excited, they're more upbeat."