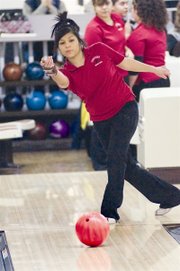 Total pinfall eventually decided the outcome of yesterday's prep bowling match-up between the Davis and Sunnyside squads.
The two teams battled to a 2-2 draw, but the visiting Pirates were awarded the victory based on their four-game pinfall of 1761. The SHS Lady Grizzlies had a total pinfall of 1680.
Thursday's win by the 4A Pirates gives Davis two victories over the Lady Grizzlies this season. Davis defeated Sunnyside by a 3-1 score in the season opener back in early November. Yesterday's loss drops Sunnyside's record on the season to 1-10.
Davis gained the early advantage in yesterday's match by storming out to a 781-664 victory. The Pirates' individual scores in the opener ranged from a team-high of 172 rolled by senior Delia Martinez to a team-low of 133 shot by sophomore Gissel Osuna.
Sunnyside was paced by junior YaYa Gonzalez's team-best 147 in the opening game. The four other individual scores for the Lady Grizzlies in the first contest ranged from a 133 to a 125.
Sunnyside squared the match at one-all by claiming a 725-675 win in game two. Junior Amanda Villarreal had the hottest hand for the Lady Grizzlies, rolling a 157. Also contributing to the game-two victory were freshman Johanna Chumley and junior Larisa Sagarnaga with a pair of 147's, Gonzalez with a 143 and senior Sandra Ramirez with a 131.
The Pirates' best individual effort in game two was a 149, notched by Kassandra Mendez.
The Lady Grizzlies forged a 2-1 lead in Thursday's match by securing the first of the two Baker games, 155-145.
In the Baker format, instead of each member of the five-girl squad bowling a complete game, the athletes alternate taking shots throughout a 10-frame contest.
Davis rebounded in the second Baker game to score a 160-136 win, tying the match at two-all.
That left the overall team victory up to total pinfall, which went the Pirates' way based on their four-game, 81-pin advantage over Sunnyside.
In JV action yesterday afternoon, Sunnyside came out on top of the visiting Pirates by a 3-1 score. Veronica Alvarez (104-147) and Ana Guerrero (145-105) had the top individual efforts for the junior varsity Lady Grizzlies.