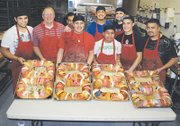 It may not be a holiday recognized by many Americans, but people all over the country and world are celebrating Three Kings Day.
Traditionally observed on Jan. 6, the holiday is a celebration of the day the three kings visited the baby Jesus in Bethlehem. The holiday is celebrated by many Christian countries and features a variety of traditions, including music, food, prayer and even gifts.
Here in Sunnyside, people who commemorate Three Kings Day (or Día de Reyes) may celebrate differently from each other, but must have one thing in common, a very unique bread, which Pepe's Bakery in Sunnyside has been busy preparing.
The bread is called rosca de reyes, a circular, orange flavored bread topped with fresh fruits, até (a Mexican candy), a tasty bread paste that is most commonly used on conchas and colorful sugars.
The bread is only made for the celebration of Día de Reyes, and what is really unique about it is that people who take a slice may just find a little surprise buried within.
At Pepe's Bakery, small figures of a child can be found within the bread. A large rosca de reyes will have four figures, a medium one will have two.
The tradition behind the figures lies with the birth of Jesus Christ.
One legend states the child hiding in the bread is a way of representing how Mary and Joseph had to hide Jesus from the wrath of King Herod and finding the figure represents the three kings locating Him.
A person who finds the figure hidden in the bread is said to be blessed, but it comes with responsibilities. Finding the figure means a person is obligated to make tamales or throw a party on Feb. 2, another little known holiday called Candlemas.
José Cortez, owner of Pepe's Bakery, says that in Michoacán, his home state in Mexico, a person who finds a baby makes dinner on Feb. 2, while a person who finds a bean (also sometimes hidden in the bread) brings drinks for the party.
Cortez also revealed that the holiday is widely celebrated in Sunnyside. This year, he estimates that his shop will bake 600 rosca de reyes for families, work places and classrooms.
Baking 600 rosca de reyes is a lot of work for the small bakery, which spent yesterday rolling, decorating and baking the bread with the help of Dean Stokes from Sunnyside's Burger Ranch.
Stokes, who has helped Pepe's Bakery with the special holiday task for three years, says he is amazed at the rosca de reyes making operation that the bakery manages every year.
"It's unbelievable the amount of work these folks put into it," he said.
And Cortez says his bakery is ready to do much more. Next year, Pepe's Bakery has a goal of making 1,000 rosca de reyes, but Cortez would like to do something even more extraordinary. Cortez says he'd like to make a giant rosca de reyes for an organization or even a school. His goal would be to make one that would win a place in the Guinness Book of World Records.
He has the drive, the employees and the plan, but Cortez is looking for a group that would accept the massive holiday bread. And if cost is a concern, Cortez says not to worry. He plans to donate the giant rosca de reyes to the interested organization or business.
"It's a very beautiful holiday," Cortez says, and he thanks his customers for choosing to let his bakery be a part of their family's celebration.
The bulk of the 600 rosca de reyes were sold yesterday - purchased by both pre-order and walk-ins - but Cortez said that the bakery will continue to make them today and invites new customers to come in and try the unique holiday bread.
Pepe's Bakery is located at 636 Decatur Ave. in Sunnyside. They will be open until 9 p.m. tonight (Friday).