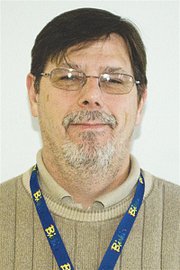 Changes coming soon to the new location of the Sunnyside Post Office will help better serve the customer base of Sunnyside, said Sunnyside Postmaster Larry Dekker.
Dekker will have served one year at his new post on Feb. 13. Before coming to Sunnyside Dekker worked as the postmaster in Wapato for six years. When he accepted the position in Sunnyside, he was actually returning to his old haunts.
Before Dekker was named the postmaster in Wapato he served as supervisor of customer service in Sunnyside.
"I spent four years here as a supervisor and enjoyed the area," he said. "I also have family ties. My grandparents emigrated from Holland and settled in Sunnyside."
Dekker said he hasn't implemented many changes at the Sunnyside Post Office in his first year at the helm. He's tried to match work hours with the work load and has tried to streamline some operations.
His second year promises to be even busier as Dekker will oversee the remodeling of the post office annex building on Custer Avenue. Eventually, the downtown post office will be closed and all postal operations will be conducted at the Custer Avenue building.
Dekker will also be making contact with more business customers this year, the goal being to find out their mailing needs and ways the post office can better serve them.
The annex building on Custer Avenue will be remodeled once the weather clears and then the two buildings will merge, something Dekker said will make the post office more customer friendly.
People with disabilities will notice improvements right away. Dekker said the annex will have ramp access. Currently, at the downtown Edison Avenue location people with disabilities must use the back entrance, which features a ramp. There will also be a counter modified at the new postal site for the needs of people with disabilities.
All Sunnyside mail is currently sorted and disbursed from the annex building. Dekker said the only operations at the downtown building are the retail counter and the post office boxes. When these operations merge with the annex building, Dekker said, the security and customer service will be improved.
Before any merger takes place, however, Dekker said there will be some type of community forum where the public can ask questions and give input.
His first year has been filled with learning and growing both on Dekker's and his employees' parts. With the current state of the post office, Dekker said there are a lot of unknowns out there and everyday is a learning experience on how to deal with the changes. It helps to have good people to work with.
"I have a very good crew here," Dekker said. "I can't pat them on the back enough."