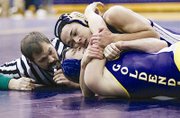 MABTON - The Mabton Viking wrestling team earned a close 38-36 win over Goldendale and lost 54-24 to Naches in double dual wrestling matches at home last night, Thursday.
The Vikes opened with a 32-6 lead against Goldendale, only to see the Timberwolves rally and lead heading into the final match of the night.
That set the stage for a dramatic finish by Mabton's Eric Huesca (285 lbs.).
With Mabton trailing 36-32, Huesca couldn't settle for a simple decision, but had to win handily in order for the Vikings to claim the team victory.
Huesca led his opponent, Zach Barrett, just 3-0 in the second round, when he delivered a pin that sealed the victory for Mabton
Prior to Huesca's heroics, Marlen Chavez (103 lbs.) got the Vikings off to a good start by receiving a forfeit. Teammate Jerry Quesada (112 lbs.) followed with a 20-3 technical fall victory over the Timberwolves' Kirk Giese.
Mabton's Danny Magallon (119 lbs.) followed with a first round pin over Thurman Johnson.
After Goldendale received a forfeit, Damian Diaz (130 lbs.) got Mabton back on the winning track with a first round pin over Jair Garcia. Brandon Marquez (140 lbs.) followed with a forfeit win for the Vikes and teammate Fabian Ruiz (145 lbs.) defeated Goldendale's Wade Gaston 6-1.
Goldendale won the next match by forfeit and then prevailed in the 160-lb. match when Brayden Ross pinned Mabton's Mario Cardenas in 27 seconds.
The Timberwolves received yet another forfeit, then continued the rally when Kurt Wilkins (189 lbs.) earned a first round pin over Mabton's Carlos Rendon.
Goldendale received a forfeit in the next match, setting the stage for Huesca to rally the Vikings.
It was a similar start, but far different finish against Naches, as Mabton again began with a hot hand. It started with Chavez and Quesada accepting forfeits to open the match and Magallon pinning the Rangers' Francisco Rodriguez in the second round.
After that it was pretty much all Naches.
The Rangers accepted a forfeit at 125 lbs., then Diaz was pinned by Zack Moser of Naches in just 23 seconds.
Naches and Mabton then exchanged forfeits, respectively, in the 135 and 140-lb weight classes.
In the heartbreaking match of the night for Mabton, Ruiz led 9-2 before getting pinned by Naches' Jacob Frazier with just a minute remaining in regulation.
"Their kid was smart and caught him (Ruiz) in a takedown and had an arm cinched up tight," Mabton Coach John Kilian said of the turnaround.
Mabton then forfeited the next match at 152 lbs. and Cardenas was pinned by the Rangers' Joseph Wells in 49 seconds.
Mabton forfeited the match at 171 and Rendon then was pinned in 59 seconds by Naches' Tanner Slick.
In the final match of the night, Huesca was pinned by Naches' Noble Stoneman in the second round.
"We knew we were in trouble against Naches, so the win against Goldendale was nice," said Kilian.
Mabton (2-4) returns to action tomorrow, Saturday, at the Wapato tourney, which starts at 9 a.m.