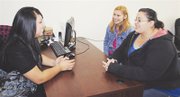 When it comes to her job as a tax preparer, Sara Sosa is honored to be serving the customers of Liberty Tax in Sunnyside.
A long-time resident of Mabton, Sosa graduated from Mabton High School in 2007. After school, Sosa attended Eastern Washington University, where she intended to major in accounting. But after her daughter Ayliana Delgado was born, Sosa decided to attend a tax school offered by Liberty Tax.
She knew that tax preparations was similar to accounting and wanted a job that would allow her to interact with people.
The tax school covered a wide array of information, but Sosa said that learning business tax was one of the program's more challenging areas.
"I wasn't very aware of them until the tax school," she said. "There is just a whole lot more forms; there's a lot you have to learn."
But Sosa's education paid off and she was hired as a tax preparer at Liberty Tax three tax seasons ago.
Sosa began as a temporary employee, working the tax season and finding additional employment over the rest of the year, including working at Washington State University's Experiment Center and Macy's.
This year, Sosa has earned a place among Liberty Tax's year round employees and she is pleased that she now serves as a general manager for the Sunnyside branch.
One reason Sosa likes working for Liberty Tax is that she gets to work closely with the Hispanic community.
Sosa says that Liberty Tax really tries to cater to the Hispanic community and to teach them about the importance of filing taxes, even among undocumented workers.
She says that many undocumented workers don't know they can apply for an Individual Taxpayers Identification Number and file their taxes.
"They don't know they have a right to report their taxes and get their money back," she said.
But Liberty Tax offers assistance for a wide array of people, Sosa revealed. For six weeks starting on Feb. 21, Liberty Tax will be offering free tax preparation for employees of various agencies.
The first week will focus on health care employees, followed the next week by teachers and school employees, then police and fire fighter employees, hospital employees, military employees and veterans, and ending with volunteers of non-profit organizations.
The exact dates for this six-week promotion can be obtained by calling Liberty Tax at 509-837-5587.
Meanwhile, Sosa has plans to continue her education. She would like to return to collge, but says, in the meantime, she really enjoys her job with Liberty Tax.
"It's just a nice, friendly environment," she said. "I like working for my boss and with everyone here."