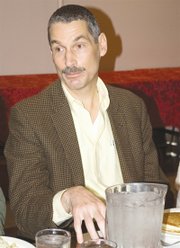 PROSSER - Dr. Gerrit Hoogenboom is the newly hired director of Washington State University's AgWeatherNet, an online agricultural weather network with more than 130 weather stations located in Washington state.
He was at the monthly grape fieldman's breakfast in Prosser the latter part of last week, seeking input from local farmers regarding how the service can be more helpful.
Hoogenboom introduced himself, stating he worked at the University of Georgia before being selected for his current position. There, he developed a program similar to AgWeatherNet, but there wasn't support for the program like the program used by Washington State University.
As a native of Holland, he said, he was unfamiliar with the Pacific Northwest and the diversity of agriculture in Washington state.
Since moving to Washington and taking the helm of the university's AgWeatherNet, Hoogenboom has become more familiar with the system. He said he is impressed with the history of the program, which was developed in the 1980s.
"I'm here, trying to address the priorities (of farmers), knowing it is impossible to provide a weather station for every orchard," he said to those gathered at the breakfast.
As an agrometeorologist, Hoogenboom said he is fascinated with the effects weather has on agriculture. "Weather is very unpredictable...it can affect different parts of the same orchard differently," he said, joking that he cannot change the weather.
"I want to know how you can be helped," Hoogenboom continued.
He invited those gathered to share concerns and needs.
Winery owner Gordon Taylor took the opportunity to tell Hoogenboom he relies upon his iPhone to provide him with weather data and he would like the application for AgWeatherNet to be more user-friendly.
He said he would like a satellite image of incoming weather patterns and "...I would like alerts for spray conditions."
"We don't want to sift through multiple layers (to obtain information)," Taylor said.
Hoogenboom said there is an application for iPhones, and he agreed the applications should be streamlined to make them user-friendly.
When asked about the number of weather stations and whether or not the data provided by those stations is useful, a couple of growers said the three weather stations located in the Sunnyside area do not provide an accurate account of weather conditions.
Craig Bardwell of Washington Grape said two of the stations are on the northern outskirts of irrigated land and one is located in a low-lying area. "They don't account for conditions between," he said.
Hoogenboom said he realizes there is a need for more weather stations, but the program needs support.
Site specific data, he said, has in the past been provided by both private and public weather networks, but he aims to have all the information available on one network.
Hoogenboom said private weather stations might be able to use the AgWeatherNet program to track data, but a disclaimer for those stations may be a solution. The disclaimer would warn users of AgWeatherNet that the weather station is not maintained and monitored by Washington State University.
Another suggestion to Hoogenboom was offered by Dr. Joan Davenport, a soil scientist and winery owner. She suggested the weather stations might be equipped with soil temperature monitors to help farmers.
"Many of the weather stations are in non-irrigated areas and that can affect soil temperatures," she said.
Hoogenboom agreed and said he has had similar ideas about soil monitoring.
For now, he is acquainting himself with the area and learning about the different agricultural products in Washington state. He is also familiarizing himself with the AgWeatherNet program and hopes to have a new programmer on staff in the near future.
Hoogenboom told those at the grape fieldman's breakfast the need for the programmer comes before any modifications to the service can be further examined. But, he welcomes ideas.