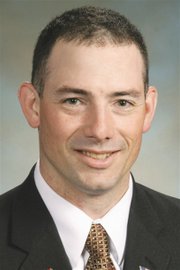 OLYMPIA - Fifteenth District Rep. David Taylor has been appointed as the ranking Republican on the House State Government and Tribal Affairs Committee. He began his new assignment when the Legislature convened today (Jan. 10) for a scheduled 105-day session.
Taylor was originally named to the panel after his appointment to the 15th District House seat in 2009. The committee assignment was a priority for the Moxee lawmaker, who steadily established himself as a knowledgeable voice on the wide range of public policy matters that come before the committee.
The committee considers issues relating to the processes of government, including state agency rule-making, state government reorganization, elections and campaign finance, public disclosure, ethics in government, procurement standards and public employment. The panel also oversees various state agencies and officials, considers the regulation and oversight of liquor, tobacco and gambling, as well as issues relating to veterans and the government-to-government relationship of the state and Indian tribes.
"I appreciate the confidence our caucus leaders have in my abilities, and am pleased to have been selected for this challenging opportunity," Taylor said. "The position of ranking member will allow me a more active leadership role on the committee, and I'm looking forward to it."
Taylor also will serve on the newly named House Environment Committee, the Labor and Workforce Development Committee (also new this year), and the General Government Appropriations Committee.
Taylor was appointed to his 15th District House seat in March 2009, arriving in Olympia on Day 79 of that year's legislative session. He won election to the position that fall, and was re-elected to a full two-year term in November 2010.