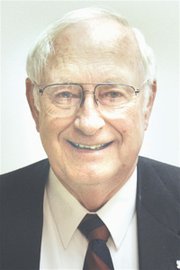 OLYMPIA - Sen. Jim Honeyford yesterday (Monday) took the oath of office for a fourth four-year Senate term as the legislature convened for its 2011 regular session at the Capitol. The session in Olympia is scheduled for 105 days.
Honeyford will continue as Republican leader on the Senate Environment, Water and Energy Committee.
"Even though state government's budget situation is bound to overshadow everything else this session, there are still important public-policy discussions to be had regarding the environment, particularly in relation to climate change; management of and access to water; and a reliable supply of clean, affordable energy. As a leader of the committee, I will work to make sure we have that dialogue," Honeyford said.
The Sunnyside lawmaker will have a front-row seat for the legislature's handling of the state budget situation, as a continuing member of the Senate Ways and Means Committee.
"There's a big gap to close and no new revenue in sight," he said.
"If the federal government comes up with anything for the states, it won't be much, and the passage of Initiative 1053 protects Washington taxpayers from being tapped for more," Honeyford said. "The only choice is to bring the level of government spending down to match the revenue available, and that won't be simple.
"Also, it's important that we make spending decisions sooner rather than later, because the longer it takes to agree on reductions, the deeper they will have to be.
"Those of us who are committed to protecting services for the most vulnerable in our state will be pushing for quick action," he said.
Honeyford has taken on a new committee assignment for 2011-12: the Senate Agriculture and Rural Economic Development Committee.
"I will miss serving on the Senate Labor, Commerce and Consumer Protection Committee and working to protect employers and employees. But given our district's agricultural leanings and preponderance of rural communities, I saw this as a positive move for the constituents I represent," he said.
Honeyford served two terms in the House of Representatives in Olympia prior to his 1998 election to the Senate. He was recently chosen to serve another two years as deputy floor leader for Senate Republicans, one of the positions on their leadership team.