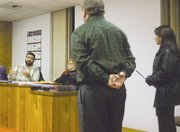 MABTON - After hearing a presentation from Banner Bank at the last meeting of 2010, the Mabton City Council decided to switch from American West Bank to Banner Bank.
Officials from American West Bank got their turn last night (Tuesday) to try to sway the council back to their side.
What sold the council on Banner Bank was a sweep package the council believed wasn't offered at American West Bank. The city of Mabton, with Banner Bank, receives interest on its money up to $250,000. Anything over $250,000 is swept into a local government investment pool, where it continues to earn interest.
Another factor leading to the banking switch was the council's belief that Banner Bank was more stable than American West Bank.
American West Bank Regional Manager and Senior Vice President Matt Duffy told the council last night that is was true American West Bank's parent company filed for bankruptcy, but that a new holding company recently bought the bank.
"We went from a very weak bank to one of the strongest in the Northwest," Duffy said.
The new holding company, SKBHC Holdings, LLC, has infused $185 million into the bank and has committed up to $200,000,000 if needed. Duffy said federal rules now require banks to hold a 10 percent capital ratio and Duffy said American West Bank is now over 10 percent, but didn't know by how much. When American West Bank received its cease and desist order from the FDIC, the bank's capital ratio was just 2 percent.
Duffy admitted the bank made some poor loan decisions and got burned on them, but almost all of those loans have been written off.
"We are now very well capitalized," he told the council.
Mabton Councilman Mario Martinez said he was concerned by the decision-making process that led to those bad loans. He asked Duffy what management changes were made.
Although Duffy didn't directly answer Martinez's question about any management changes, the bank now has in place a rating schedule for all its loans. Duffy also said it was American West Bank that was the first bank to acknowledge any bad loans.
He also added that SKBHC Holdings, LLC would not have invested so much money into American West Bank if they thought there were more bad loans out there.
Duffy said his bank could offer the same service as Banner Bank and reminded the council the city has been banking with American West Bank for nearly 40 years.
"We have an office here and it is in large part because of our work with the city of Mabton," Duffy told the council.
He added that the city switching banks would be a pivotal point for American West Bank on whether they keep an office in Mabton.
The council agreed to look at information American West Bank will submit and revisit the item at the next council meeting.