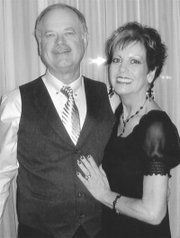 Mike and Debbi Berk of Sunnyside celebrated their 25th wedding anniversary at a dinner with family and friends on Dec. 28, 2010.
The couple married at Sunnyside's Grace Brethren Church on Dec. 28, 1985 and raised their two children, Austin (Heidi) Berk and Monte Fuller, in Sunnyside.
The Berks were born and raised in Sunnyside, where they continue to live.
Mr. Berk is the manager of a large tree farm in Boardman, Ore. He is an employee of Greenwood Resources, an internationally recognized company.
Mrs. Berk is a manager, caregiver and volunteer.
The couple plans to travel on a cruise at a later date in celebration of their 25 years of marriage.