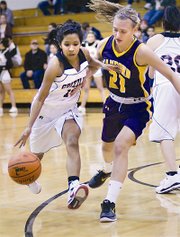 Trying to get their first win of the season the Sunnyside Lady Grizzlies fell short last night to the visiting Hanford Falcons, 52-35.
The loss keeps Sunnyside winless for the season at 0-11.
Sunnyside Coach Rick Puente described last night's affair as an up-and-down game.
"We were trying to add full-court pressure and they had their press breaker working really well," Puente said. "We didn't rotate as well and they (Hanford) had a couple of breakaways and easy buckets."
Hanford was able to jump out to a 19-11 first quarter lead because of it.
In the second period of play both teams played tough defense, which limited both sides on offense. Puente said both defenses were aggressive and contested almost every shot.
"It was tough to get open looks," he said.
Both teams scored seven points apiece in the second stanza and the Falcons led 26-18 at halftime.
Melissa Amaro and Addi Palencia got into foul trouble in the second quarter and had to sit. Puente addressed the fouls at halftime, urging his team to work harder on defense so they could be at the right spot at the right time, not late so they had to foul.
The second half was close and Puente said the game could have gone either way.
"We got caught up in the moment and started forcing the issue too much," Puente said. "That resulted in a lot of turnovers and didn't allow us to get into our offensive sets."
The Falcons outscored Sunnyside 26-17 in the second half.
The Grizzlies were led by Ruby Herrera with 12 points. Sydnee Hernandez added 10 points. Kaylynn Jongsma finished with five points. Teammates Vanessa Alvarez and Amaro added four points each.
Hanford was led by CoCo Gall with 13 points. Her teammate, Ashley Stewart, added 12.
Sunnyside will travel to Pasco on Friday night to take on the Bulldogs at 5:45 p.m.