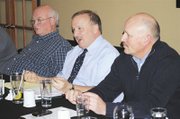 The people who gathered at Tuesday night's joint meeting between four important Sunnyside entities have a vision in mind for the city and are ready to combine efforts to see that vision become reality.
Representatives from the city of Sunnyside, the Port of Sunnyside, Sunnyside School District and Sunnyside Community Hospital all gathered at Bon Vino's restaurant to discuss various concerns about the city and how to address them.
The major concern was brought up by Port Executive Director Amber Hansen. She said the city and its partners need to help initiate a plan that will turn Sunnyside's image around. She asked those gathered at the meeting, "How do we make Sunnyside a community people want to invest in?"
Hansen continued by saying, "People tend to focus on the negative while they're talking (about Sunnyside)." She added that everyone needs to begin the process of turning Sunnyside around by taking pride in their community.
Sunnyside Port Commissioner Jeff Matson and Sunnyside School Board Director Steve Carpenter agreed with Hansen. They added that a major issue connected with her concern is attracting employees to local industries who are interested in living in the community. They said it is hard to watch people work in Sunnyside but choose to live somewhere else.
A part of attracting people to the community is beautifying the town, Hansen said. She wants to see an effort being made to make the entrances into town more attractive and the neighborhoods more appealing.
City Manager Mark Gervasi and others agreed with Hansen. An emphasis was put on improving the appeal of sideways and parks.
Gervasi said, "You've got a lot of good assets here and the parks are one of them."
The parks are an important part of presenting a happy and safe community, but Councilman Don Vlieger said that before the image of a city can be changed the city needed to change its reality. Vlieger noted that the string of particularly violent murders in 2010 is something the city must address before city leaders can change the image problem facing the city.
School Superintendent Dr. Rick Cole revealed that a survey taken by approximately 3,000 parents during school conferences found that 85-95 percent of parents said they feel their children are safe in the schools.
Cole wanted to know if any survey like that had been done with residents of Sunnyside concerning the entire community or if one could be conducted. Even if the result turned out to be not as positive as the school survey, they could at least gather data about the major obstacles that prevent people from feeling safe in their city.
Cole also wanted to know if there was a comprehensive plan somewhere that they could use to address these issues. He recalled a meeting approximately 12 years ago that discussed this very same issue but had not heard anything about it since.
The group agreed that a comprehensive plan was a good place to start in order to address the image problem plaguing Sunnyside. They plan to look into how to develop this idea and bring in the ideas and opinions of local residents.
Dr. Cole also asked that another plan begin to take shape that would allow the hospital, school, city and port to share technology and resources.
"The world around us is technologically literate," Cole said. "This community needs a technology plan. It's not enough to have a vibrant community without a technology plan."
It was agreed that each group would appoint a person to begin the process of developing this plan at their respective meetings.
The group agreed that joint meetings would continue on a quarterly basis after next month's meeting, which is set for 6 p.m. on Tuesday, Feb. 22, at Bon Vino's.