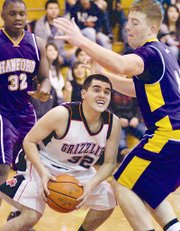 The visiting Hanford Falcons used a 16-5 first quarter run to defeat the Sunnyside Grizzly boys basketball team last night, 68-47.
Sunnyside found itself down by double digits at the half, 31-18, and trailed by more than 20 points, 46-25, heading into the fourth quarter.
The Grizzlies tried to rally back, though, and cut the lead nearly in half, down to 12 points, in the fourth quarter.
Sunnyside had to foul to try and climb all the way back in the ballgame, but Hanford was clutch from the charity stripe over the final two minutes, canning 11-of-14 free throw attempts.
For the game, Hanford was 21-of-37 at the line, while Sunnyside was 4-of-7.
"We didn't get a good start and as a result got ourselves in a hole and had to battle back," said Sunnyside Coach Ron Rowe. "They're a pretty good ball team and you can't spot them a lead."
Sunnyside was led by Jesse Leija with nine points and four assists. Teammates Trey Serl added eight points and Brandon Daley tallied seven points.
Marus Nash led Hanford with 18 points. The Falcons also received help from Kurt Rueter with 12 points and Aaron Neray with 11 points.
Neray helped the Falcons to a 34-21 rebounding advantage by climbing the ladder for a game-high seven rebounds.
Sunnyside (1-4, 3-8) travels to Pasco this coming Friday and to Kamiakin on Saturday.
"We need to play better and rebound stronger, and do a better job defensively," Rowe said of the Grizzly to-do list.