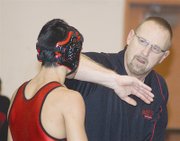 The Sunnyside Grizzly wrestling team handed Coach George Paulus his 200th win in convincing fashion last night, 70-4 over visiting Kamiakin.
Of the 11 head-to-head matches Thursday night, Sunnyside won all but one and seven of them ended with a pin over a Kamiakin wrestler.
The rout was on from the get-go as Jesse Barajas of Sunnyside prevailed 14-0 in the 103-lb. match over David Lozano.
Next up was Sunnyside's Santos Guerrero (112 lbs.), who pinned Junior Pina in 5:22. Grizzly Nathan Gonzalez (119 lbs.) followed with a pin in 3:39 over Kamiakin's Harley Colp.
In the 125-lb. match, Sunnyside's Daniel Guillen held on for a 5-1 win over Adrian Barajas.
Isaac Guerrero (130 lbs.) kept the momentum going for the Grizzlies with a pin in 3:43 over Cedar Ceja.
Sunnyside received a forfeit at 135 lbs., and Grizzly Emmanuel Tejeda (140 lbs.) held on for an 8-4 victory over Joey Doyle.
The Grizzlies scored a pin in the 145-lb. match, when David Vidales prevailed over the Braves' Javier Pereyda in 3:06.
After receiving a forfeit in the 152-lb. match, Sunnyside's Jaime Garcia (160 lbs.) scored a pin in 3:36 over Sisto Pina.
Kamiakin's only bright spot came in the 171-lb. match, where Anthony McFadden outpointed Sunnyside's Lupe Mendoza, 16-6.
After Sunnyside received a forfeit at 189 lbs., the night ended with an exclamation point. At 215 lbs. Sunnyside's Franki Ochoa pinned Kyle Davis in just 25 seconds and Adam Peters (285 lbs.) then dispatched Daniel Crnkovich by pinning him in just 16 seconds.
Following the match there was an official announcement about Paulus' 200th win in 23 years as head coach of the Grizzly wrestling program.
After congratulatory balloons and flowers, Paulus said the key to success for him and the Grizzlies is "working with a lot of good people."
He praised his assistant coaches for working within his wrestling philosophy and the many athletes he's had over the years as "guys willing to pay the extra price to be successful."
Paulus added, "There have been a a lot of kids, an interest in the sport."
Reaching the 200-win milestone in wrestling is similar to football in that wrestling programs typically only have 11 or 12 dual matches each season.
"At the beginning of the 80s wrestling became more of a tournament sport," Paulus said. "It takes a considerable block of time to reach 200 wins."
After competing at a tourney in Ellensburg tomorrow, Saturday, Sunnyside (5-0) will seek another milestone next Thursday at Pasco. A Sunnyside win would not only clinch a Columbia Basin 3A league crown, but also the Grizzly wrestling program's 55th consecutive winning season.