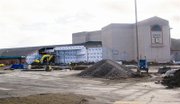 A year that saw a building boom ended with a whimper, as 2010 closed with just $36,000 in new building valuation for the month of December.
But in the big picture Sunnyside enjoyed a good construction year. Unofficially, the city saw about $40 million in new building valuation for 2010.
By far the biggest project given a thumbs up by city building officials during 2010 was the $27 million remodeling project at Sunnyside High School.
But dirt was moved on a number of new building projects last year:
- A remodel of Sun Valley Elementary School
- Construction of a new McDonald's
- The new Maverik mini-mart
- The new Apple Valley Dental Clinic
- An office/propane rail terminal for Bleyhl, and
- An estimated 16 new home starts in 2010.
The flurry of new work meant a total of $444,061 in permit fees for Sunnyside's city coffers during 2010. That's a notable uptick compared to the $317,644 the city received in 2009 for permit fees.
Also of note is that Sunnyside's decision to re-instate its code enforcement staffing resulted in 867 permits issued in 2010 related to code issues.
All told, Sunnyside's building department issued 1,389 permits in 2010, compared to 516 in 2009. Almost all of that increase was attributed to code enforcement, as in 2009 Sunnyside issued just two permits for code-related issues.