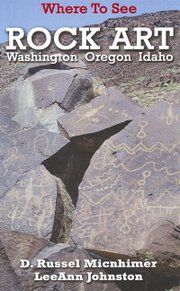 Washington, Oregon and Idaho are full of rock stars.
Need proof?
Check out Where to See Rock Art in Washington, Oregon and Idaho, a pocket guidebook published in December. It describes petroglyphs and other rock inscriptions that in some cases date back thousands of years.
Penned by D. Russel Micnhimer and LeeAnn Johnston of the Oregon Archaeological Society, Rock Art provides a road map - including directions - on where to find ancient artwork inscribed in stone.
The authors not only provide a road guide to rock art, but help the readers understand what they're seeing.
A pictograph, for example, is described as pigment applied to rock, while a petroglyph is made by scratching the surface of the stone.
While there are hundreds of rock art sites in the Northwest, the authors help their readers by directing them to sites on public lands. Each site description is accompanied by a photograph.
Many of the sites are very accessible to the public, including some right here in the Yakima Valley, such as the Prosser city park and Yakama Nation Museum.
Other nearby locations include the Benton County Historical Museum in Prosser and the Kittitas County Historical Museum in Ellensburg.
Not only do they describe rock art that's easy to access, complete with directions and contact information for each site, Micnhimer and Johnston leave no stone unturned in helping the reader appreciate rock art.
There is a section in Rock Art that teaches the reader how to take good photographs of rock art. Another describes efforts to protect the art from graffiti and vandalism.
Rock Art is published by Pendulum Press. The 147-page paperback is available for $14.95, plus $4 for shipping and handling at:
Russel Micnhimer
P.O. Box 1653
Prineville, OR 97754.
More information about the book is available at www.oregonrockart.com or contact Micnhimer at TalkingEarth@hotmail.com.