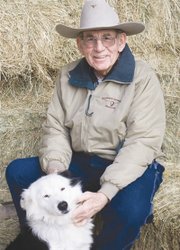 PROSSER - A man with a passion for agriculture, and a humble spirit, Prosser's Charlie Card was truly touched when he discovered he was named the Pioneer of the Year award winner for the 11th annual Mid-Columbia Ag Hall of Fame.
He said he was provided the opportunity to read the nomination forms, which were submitted by state senators, cattle industry leaders, FFA advisors, a reporter, friends and a man whom Card provided guidance years ago.
"Some of them brought me to tears...I do what I do because I believe it is right, never expecting recognition," said Card.
As for the man whom he mentored years ago, Card said that young man was a shy, quiet teen. The youngster bonded with Card and later went to college because of Card's support.
"He works for RDO now," Card said, stating the man has become an extended family member.
Education, he said, is of high importance. Because of that, Card and his wife, Linda, volunteer for educational events like the annual Farm Fair held for fifth graders at the Benton County Fairgrounds each year.
"Without an education, our youth don't have a future...it's a benefit to them to have someone willing to invest time and patience," said Card, stating his time at the Farm Fair is the highlight of his year.
Many of the youngsters participating in the Farm Fair haven't been exposed to real farms and Card said the two-day event exposes them to a variety of agricultural experiences. They learn from farmers and ranchers like himself where their food comes from and how it is raised. "They learn life on the farm is not just farmers driving around in pick-ups, drinking coffee," he said.
"We've got to start with kids so they will be knowledgeable about agriculture...they find out it's not all easy, and our food doesn't come from the grocery store," Card continued, explaining about 2 percent of the population feeds the nation.
Card didn't begin his career in cattle ranching until he retired from the Chelan County PUD in 1992. That is when he and his wife moved to Prosser.
He said he had helped his in-laws for many years on their cattle ranch and decided he enjoyed the work. So, he took cattle ranching up as a hobby "that became more."
As Card developed his ranch and his passion for ranching, he became an advocate for ranchers in the cattle industry. He has served as a spokesman for the industry, served beef at the annual Cougar Gridiron Classic football games and served on the local and state Cattlemen's Association boards.
He also keeps in touch with legislators in an effort to help them understand the needs of farmers and ranchers. "I have their phone numbers programmed into my cell phone," he laughed.
The Pasco Chamber of Commerce hosts the Mid-Columbia Ag Hall of Fame and shared a story about Card. "Charlie was once in a line at the grocery store. The man in line in front of him was buying chicken. Charlie quickly informed the man that chicken was for 'sissies' and he should be eating beef, instead. That man became Charlie's friend, learning how to raise cattle. And when illness sent the man to the hospital, Charlie was there for the family to make sure the steers got to market and the family got a check," said the chamber spokesman.
Card said that story is just one of many that could have been shared, but he is a firm believer in helping his neighbors.
At 73-years-old, he said he isn't ready to slow down. He believes in being active and is always looking for new challenges.
"I guess you could say I march to the beat of a different drum," Card joked, stating nothing he has done would have been possible without his wife and partner.
"We joke that she could do it without me and I could do it without her, but neither of us could do it without the dog," he said.
Putting the humor aside, Card said his wife is a full-time partner in everything he does. She volunteers and advocates beside him, and she supports him whenever he takes up a new venture.
"Truly, it is an honor that so many think so much of me," he said, turning the subject back to the Hall of Fame honors.
Card will receive full recognition as Pioneer of the Year at the Mid-Columbia Ag Hall of Fame awards ceremony, which will be held at the Pasco Red Lion Medallion Ball Room on Thursday, Jan. 20.