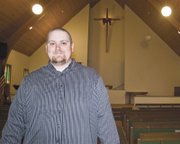 Cameron Garcia is the new pastor at Sunnyside Church of God.
He's part of a movement that seeks to completely re-shape the congregation with a new name, a new focus and maybe even a new building.
Garcia, his wife Mary and son Isaac arrived in Sunnyside last November from Bellingham, where he had served two years as an associate pastor
"My wife and I felt the Lord was calling us here," he said. "We fell in love with the community."
Garcia says all communities have struggles, and that Sunnyside seems to have more than its share. But, he adds, "Struggles are opportunities for us from a church standpoint."
The members at Sunnyside Church of God are taking the opportunity to do what the church calls a "re-start" in essentially starting over from scratch.
"Everything's on the table," Garcia said. "We're starting a new church within the old one."
Sunnyside Church of God, located at 11th Street and North Avenue, has been here for more than 60 years.
But legacy doesn't always translate into effectiveness, Garcia notes. "The church should always be dynamic, not static."
Garcia says former pastor Karen Helsel and others at the church began the process of totally re-evaluating the church to help do a better job of fulfilling the mission of "love God, love neighbors, make disciples."
The period of re-evaluation will culminate this Easter with a re-start of the congregation, including a new name and new outreach efforts.
When Garcia says "everything's on the table," that includes even possibly selling the church building if the congregation feels that would help it do a better job of achieving its mission.
Helsel, who recently retired after 10 years pastoring the church, says she's had a vision for a different kind of church for about three years.
"It might not end up exactly like I envisioned, but I don't really mind," she says. "I just want people to know the peace of mind and heart available in Christ."
Helsel adds. "No matter how that happens, or who leads it, I am supporting the new leadership in any way I can to see this happen."
Helsel and her husband will continue to live in Sunnyside and participate in some areas of the church's ministries.
As for Garcia, he is excited to see what will happen on Easter Sunday 2011 once the re-start, focusing on "radical grace," is fully implemented.
He says most of the church members are looking forward to the change, as well.
"They're excited to see what it will look like," says Garcia, the 14th pastor at the Sunnyside Church of God. "We're really excited to see what God is going to do."