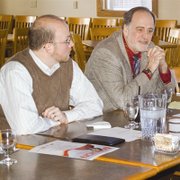 Two years ago Sunnyside High School was among the bottom 5 percent in the state and in 2009-10 only about half of the students were passing their classes.
It's a different picture now at SHS, and first-year principal Chuck Salina is cautiously optimistic the improvements will hold through the end of the school year.
Salina was the featured speaker yesterday, Thursday, for the Sunnyside Chamber of Commerce's monthly membership meeting.
While there has been an increased focus on academics at SHS during the 2010-11 school year, Salina said he and the school's staff and administration have also been emphasizing proper behavioral and social characteristics.
He says the number one target is to instill a work ethic, a pride among students for their school and community.
Among the keys to success so far at SHS is a dedication by staff to collaborate each Wednesday afternoon.
Another key is an early warning system that helps school administration intercept students before grades and/or behaviors hamper their education.
"We monitor grades every week," Salina said.
For students who are struggling, he said there is a program in place to help them build trusting relationships within the school.
Salina emphasized time is still needed to see how well the improvements carry through to the end of the school year. "It's too early to tell," he said.
Salina, a Gonzaga professor working at SHS on a year-to-year basis, is hopeful the progress will continue.
He says, ultimately, it's about all SHS students graduating.
"The kids spoke to my heart," Salina said. "That's why I'm here."