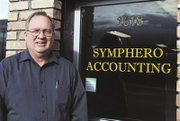 When it comes to running an office, Rich Verhoef seems to know all its particulars - from bookkeeping to payroll and taxes, his experience spans 30 years and he is bringing his knowledge to Lower Valley business owners.
Verhoef was raised in the Lower Valley and, after a brief stint in Kansas, he has maintained a long legacy of managing offices and assisting business owners. Recently, Verhoef decided to combine his years of experience to create what he calls "a culmination of a life being around and in an office."
Verhoef's Symphero Accounting has opened its doors to the public and he wants local business people to know he is here to work with them through all aspects of running a business.
"I want to work with them," he said. "Not push them in any particular direction, but see where they want to be going and help them get there."
And Verhoef's extensive knowledge creates a one-stop center for assistance. Along with tax preparation, payroll and bookkeeping, Verhoef knows the ins-and-outs of significant computer software essential for business owners, including Microsoft Excel and Quickbooks.
Lots of people know how to use Excel, Verhoef says, but often times business owners don't know the full extent of what the software can do.
Verhoef is also a Certified ProAdvisor for Quickbooks. This software is being used by as many as 80 percent of small businesses, Verhoef estimates, and it is a valuable tool, but he advises small business owners to become knowledgeable when it comes to its use.
"Although it's easy to use, it's also easy to misuse," he said. "Quickbooks can be misused and, in some cases, result in very serious problems."
When it comes to his services, Verhoef wants to provide his clients with ongoing and consistently high quality. That is why he has brought on two Heritage University business majors to join him.
Olga Gonzalez and Magali Ambriz bring the same devotion to service that Verhoef maintains, but they are also both bilingual, ensuring that Symphero Accounting can serve a wide variety of clients.
"We're here, we're local and we intend on working with our clients throughout the year...to do the things that make their operation more efficient."
Symphero Accounting is located at 1618 Eastway Avenue, in the Eastway Shopping Center. They can be reached at 509-643-4992.