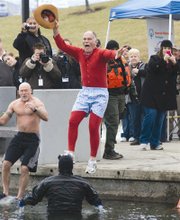 YAKIMA - Members of the Yakima County Prosecutor's and Sheriff's offices, as well as staff from the Sunnyside Police Department and several other businesses and organizations, this past Saturday participated in the annual Polar Plunge at the Yakima Greenway's Sarge Hubbard Park.
It wasn't just for fun that the nearly 100 individuals chose to plunge into 30 degree water. It was to support the Washington State Special Olympics program.
Sunnyside police collected more than $576 for the cause, and nearly $12,000 in donations were collected overall.
The Sunnyside Police Department has been participating in the annual event for several years, according to Public Information Officer Charlotte Hinderlider, who was one of three from her agency to take the plunge.
Her teammates included Corrections Sgt. Andrew Gutierrez and Reserve Officer Vanessa Gutierrez.
"I've been doing this so many years, I don't really think much about it (the water in the pond)," Hinderlider said, stating she and her cohorts are pleased they are able to help a worthy cause through participation in the event.