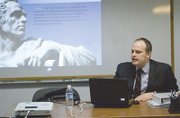 "The good, the bad and the ugly of it all...the public records act is intended for transparent government, a fundamental piece of society," Attorney Ramsey Ramerman said at last night's Port of Sunnyside commissioners meeting.
He is a member of the Sunshine Committee and attorney for several Washington municipalities. He is also the person many turn to when issues of open government arise.
Last night Ramerman provided Port of Sunnyside commissioners a presentation about the public records act in Washington. He said, "If you don't know how government is working, you are not politically involved."
Washington has one of the best public records policies in place, according to Ramerman. He said the public records act provides citizens more access to government, which strengthens the act.
Because of the law, all public records in Washington are presumed subject to disclosure with 365 narrow exemptions. Because the exemptions are narrow, more government documents are available for public inspection.
"The broad definition of public records pertains to anything that relates to government and includes anything that retains information," said Ramerman, explaining cell phones, flash drives, computers, mp3s and various other technological gadgets are subject to the public records act.
He said any computer, be it personal or not, that is used for business purposes is subject to the public records act.
An agency, said Ramerman, may not have a right to a computer. However, the agency is liable for information on the computer.
He said an agency can request employees sign a waiver if a personal computer is to be used for conducting business. The waiver, he said, would provide the agency access to information on the computer, if necessary for the purpose of providing public record information.
"If you have a mixed document, like an email, that contains both business and personal data, the public still has a right to that data," said Ramerman, explaining emails can sometimes segue into personal communications. However, those communications are not considered private if any discussion of business matters is within the document.
The public records act does provide a provision for exemption when the public's interest is served.
Ramerman explained examples of exemptions include commercial interests, personnel files, some criminal records, real estate appraisals, employment testing and public safety matters.
The federal government has seven exemptions, which give the public less access to information.
Also, according to the public records act, the public pays the costs associated with a public records request. An agency can charge up to 15 cents per page for copies, but the agency must make the requested information available for review.
Ramerman said agencies can also charge for a copy of electronic data. "A fee of something like 75 cents can be charged for the actual cost of a CD, for example," he said.
However, the costs associated with staff searching and locating all information requested is paid by the public.
Also, agencies must provided full assistance to those making public records requests. Ramerman said the agency should explain how a public records request can be made, such as via email, a form or through a public records officer.
"The exact title of a document is not necessary, but identifiable information for the records can be required," said Ramerman.
He told the Port of Sunnyside commissioners requests must also be answered within five business days. The agency can deny the request, provide a reasonable time for fulfilling the request or provide the records.
The public records act, for all its good, Ramerman acknowledged has had its problems.
He said, "There is a burden on governments."
Explaining, Ramerman cited two cities having been burdened with an abundance of public records request, Prosser and Mesa.
Both have been inundated with requests from one citizen within the respective communities.
"There's no cost to the requestors and the public records act can be abused," said Ramerman.
He said penalties for not complying with the law can be extensive. Although the penalties awarded can be as low as $5 per day, the penalties can reach as much as $500 daily.
Ramerman said one minor oversight can be costly. He cited an example of a state agency being penalized for pages stuck together in a document. Those putting the documents together did not double-check to ensure all the pages were included and the agency was penalized a hefty sum for the oversight.
"It was ruled they were negligent," said Ramerman.
On a positive note, he said, the legislature is looking at case of abuse of the law and Ramerman believes some of the burden on governments will be eased.
"Technology is moving in a direction to also ease the burden," he said.
Port of Sunnyside Commissioner Jeff Matson said he has a rule of thumb he believes in. "If everybody doesn't put in an email something they don't want printed in the Daily Sun News, they wouldn't have to worry about it.
Ramerman said Matson was correct, but another consideration to keep in mind is retention. He said governments should have in place a policy for saving both electronic and hard copy files. If employees abide by the same rules and dump documents that have aged a certain length of time, those files will no longer be accessible.
"We do need something in place to prevent abuse...but, we also need to invest in transparency," he said.