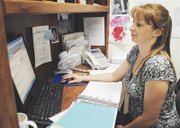 When it comes to being a registered nurse, there is no place Teri Jones would like to be other than working with the residents of Hillcrest Manor and Rehabilitation Center.
It has been a long road for Jones, who said that her early dream was to become a teacher. But after high school, Jones moved to Sunnyside and began a family.
After her move, Jones said she began to consider a career in nursing. She said the job appealed to her because she got to help people, had the opportunity to work in various settings and nurses were in high demand.
While Jones pursued her education though Yakima Valley Community College, she worked for the Washington State Migrant Council performing audits. After she became a certified nursing assistant, Jones continued to work for the migrant council utilizing her new education.
Eventually, Jones accepted a job as a nurse technician at Hillcrest Manor. Jones said the job afforded her a variety of experiences.
After graduating from Yakima Valley Community College's nursing program, she began working as an RN for Hillcrest Manor.
Jones has worked with the residents for almost a decade. She says she did take some time to explore other opportunities, including a stint at the Farm Worker's Clinic in Grandview. But in the end, Hillcrest drew her back.
Currently, Jones is utilized in a more administrative role. She helps coordinate rehabilitation services and equipment between patients and staff.
"I am happy where I am," Jones says. "This really works for me and my family."
And Jones certainly does need a career that is family friendly. She is raising a family of seven - four children of her own and three step-children.
Blending the two families was a lot of work for Jones, but she said that her job is just flexible enough to allow her the time she needs to put a focus on her family.
In fact, it was being offered the office job that brought Jones back to Hillcrest Manor.
"It was better for my family," she said. But Jones adds that she really enjoys working with the staff of Hillcrest Manor and one of the hardest parts of her job is saying good-bye to friends at the end of each workday, both residents and staff.