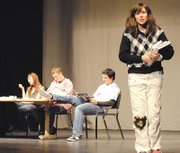 This past Friday, Sunnyside High School senior Renae Haringa introduced an audience to the characters Beauty, Brawn, Belly, Brains and Bitter in an emotional drama aimed at exposing the various forms of high school violence.
The play follows the five characters, defined by their primary traits that reign from the physical, such as Beauty, to the emotional, such as Bitter, and tries to solve the mystery of a high school act of violence.
The play, titled Power Play and written by Lindsay Price, attempts to strip away stereotypes and reveals the real pain behind students subjected to them. Haringa reveals that the play unveils the impact of violence in all its forms.
"The play really centers on school violence," she said, "and what the causes really are. It digs deep down and asks 'Is violence purely physical or is it also the words and ideas that we plant in people's brains'?"
Haringa decided to put on this play because she is aware of the violence in her community and school. She wanted to create something that would help put a face to the violence and thought drama was the best route.
"I wanted something that would reach out to people, something that really recreates it (violence). Drama brings it to life in a very literal fashion...through the play, we get a glance of what it really is."
Staging the play was just one of Haringa's three senior project goals. She also wanted to improve her leadership goals and work cooperatively with a large group.
She began this process in early November when auditions for Power Play were held. Haringa said that five actors who turned out for the auditions really embodied the characters they read for.
"They stood up on stage and read their monologues and the characters just poured out."
Taking the stage for two performances on Friday were Vicky Santoy, Lizze Sustaita, Bob Ruppert, Gerardo Alquicira and Yessica Honstien, each embodying a high school persona - Bitter, Brains, Belly, Brawn and Beauty.
Haringa said that one of the appeals of this play was that the characters were not dissimilar to those from The Breakfast Club (1985), the now legendary '80s dramedy that has come to embody teenage angst.
But Power Play does not present a clean ending where everyone walks away having learning a valuable lesson. The characters here learn a hard lesson that at least one of them do not walk away from.
And for Haringa, Power Play taught her a great deal about herself and what she is capable of accomplishing.
"I feel more prepared for college," she revealed. "Knowing that I can sit down and take on a big project, it made me feel ready for college."
Haringa plans to attend Utah Valley University this fall. While she plans to major in arts and visual communication, she says she will stay active in community theater wherever life takes her.