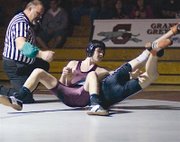 GRANDVIEW - The Greyhound wrestling team is showing strong signs of life and Tuesday night's 47-21 win against Ephrata has boosted the team's confidence, said Grandview Coach Jeff Sevigny.
"We're a young group but our kids are kind of turning a corner," he added.
Ten Grandview wrestlers earned a win against Ephrata in the match.
Fidel Medina (103 lbs.) and Stevie Rodriguez (112 lbs.) each won their matches by technical fall. Medina finished his match against Ephrata's Rolo Padron with a 17-2 score. Rodriguez overpowered Eli Perez, 15-0.
Grandview's Alex Soberanes pinned Benny Carter in 3:41 to win the 125-lb. weight class, while Mario Prieto (145 lbs.) was slightly quicker in pinning his opponent, Bryce Unruh, which he did in 3:40.
Joesiah Saunders and Raul Gamboa also pinned their Ephrata opponents.
Saunders claimed the 135-lb. weight class victory in 3:47 when he pinned Zack Dwyer and Gamboa pinned his opponent, Dalton Balentine, in 5:04 to win the 152-lb. weight class.
Eduardo Alcantar (140 lbs.) struggled against Ephrata's Kyle Pohle but earned a 1-0 victory.
Grandview's Enrique Ochoa defeated Tyrus Kemp 5-1 to win the 160-lb. weight class and Adam Morales (189 lbs.) defeated Ephrata's Curtis Treiber 9-2.
The win against the visiting Tigers last night improved Grandview's CWAC record to 2-4.
Coach Sevigny said that his team has really turned a corner in its efforts.
"Overall, as a group, they've really stepped up and their hard work is starting to pay off."
Grandview wrestlers will return to the mat when they travel to Othello this Thursday, Jan. 20.