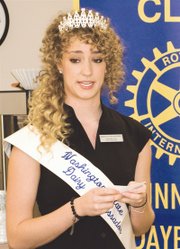 Six months into her reign as the 2010-11 Washington State Dairy Ambassador, Kristyn Mensonides is well-schooled in promoting the state's dairy industry.
The Sunnyside Christian High School grad spoke this morning, Wednesday, to the Sunnyside Daybreak Rotary Club and shared the highlights from her reign so far.
Mensonides, who won the crown during a three-day competition in Seattle last July, has already represented the dairy industry at events ranging from a Seattle to Portland bicycle race to the Central Washington State Fair.
Mensonides also told Rotarians that she has reached 1.4 million people so far with the message of the importance of milk consumption through a combination of public events and exposure on TV and radio.
That doesn't include the many schools she has visited. "My goal is to make 100 school presentations," she said.
Mensonides will also keep busy during the next few months presenting the WIAA's state trophies during various high school championships.
The public relations/education effort is necessary, Mensonides says, because most children do not receive the daily recommended amount of calcium in their diet.
The idea, she adds, is for children to learn "milk comes from cows, not the store." The educational effort also includes helping children realize the various products made with milk, such as cheese and butter.
Mensonides noted the dairy industry needs to do a better job of reaching the public.
"We've lost the personal connection," she said. "Most kids have never pet a calf."