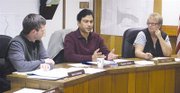 MABTON - Members of the Mabton City Council, the city's engineering firm Gray & Osborne, Inc., Washington State Department of Commerce and Washington State Department of Ecology met yesterday (Tuesday) to discuss the current schedule for improvements on the city's wastewater treatment facility and how to better inform the public.
Morie Block, an office manager for Gray & Osborne, Inc., and Nancy Morter, a project manager for the firm, told Mabton Mayor Angel Reyna and Mabton council members Mario Martinez, Vera Zavala and Oping Hutson the schedule for upgrades to the wastewater treatment plant is on track.
Morter said the firm is currently working on completing its analysis on capital improvements for the city and will present those findings at the Feb. 8 regularly scheduled council meeting. Once that is finished, Morter said Gray & Osborne will conduct an analysis on the financial obligations the upgrade to the wastewater treatment plant will cost. She said those costs haven't been figured yet but estimated the range to be between $5 and $6 million.
A financial analysis will be presented to the council at its March 8 meeting.
Once that is complete, Morter said a plan will be submitted to the Department of Ecology for final approval before the city begins seeking loans and other grants to fund the project.
The group also spoke of the need for the city of Mabton to form some type of steering committee that would focus on education and outreach to the Mabton community.
Jonathan Galow, a project manager for the Department of Commerce, said the committee should let the citizens know what the city is doing in regards to the wastewater treatment plant upgrade and why they are doing it. The Mabton City Council raised water and sewer rates in 2011 to help fund part of the upgrades to the wastewater treatment plant and local residents will soon see those increases on their bills.
Reyna said the committee would be a good tool for members of the community and the council to work hand in hand together to help educate the rest of the community.
Reyna, Martinez, Hutson and Zavala all agreed the committee should be formed as soon as possible. Eight members were assigned to the committee. Reyna said there will be two council members, himself, two citizens, a member of the Mabton School District, the city clerk/treasurer and an operator from the wastewater treatment plant that comprise the committee.
The committee is tentatively scheduled to meet on Tuesday, Feb. 15.
&nbsp