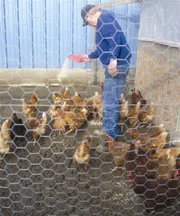 GRANGER - Gary Dixon has been a lot of things in his life. He's been a truck driver. He's worked with musical bands hauling equipment. He's been a police officer. And now he's a chicken farmer, and he couldn't be happier.
"It's always been in the back of my mind to do this," he said of farming.
Dixon recalled when he used to drive band equipment around. If he was ahead of schedule he would get off the interstate and take an old state route that went through farm towns. There he would stop at a café and settle in.
"He wanted to hear the farmers talk about farming," said his wife, Judy Dixon.
Farming has always been something Dixon has wanted to try so when he turned 67-years-old, he and Judy moved to Granger where they bought a nice little spread.
"I wasn't going to sit around and watch As the World Turns," he said, so the Dixons started raising cattle and hogs. That proved to be too expensive, as the cost of feed kept rising and finally the Dixons sold off their stock. They then tried their hand at chicken farming.
Known as J&G Chicken Farm, the Dixons sell eggs and meat. The meat comes from Cornish Game Hens and Brown Fryers. The eggs come from Rhode Island Reds and Bovans hens.
The couple first switched to chickens in 2009 and business was going well. They had a steady clientele who would purchase eggs and meat from the Dixons. Then, Judy Dixon got sick and Gary found that he couldn't take care of the chickens and drive truck at the same time. They decided to get rid of their chicken stock and concentrated on Judy's illness.
She has since recovered enough that the two have decided to give the chicken business another go. They started buying chickens again in March of 2010 and are now selling again.
The eggs sell for $2 a dozen if five or more dozen are purchased. The price is $2.50 per dozen if less than five are purchased.
The eggs are from free-range chickens that are fed an all natural diet with chemical free food. Eggs at the local supermarket that meet these requirements can cost as high as $4 per dozen.
Chicken meat is the Dixons' main seller. The couple has a processing plant in Walla Walla they take their chickens to. They are processed and then frozen. These chickens sell for $12 and the birds are approximately four to six pounds. Live chickens sell for $8, but the purchaser must butcher the chickens themselves.
"We're providing a service for people who want to feed their family better," Gary Dixon said.
He's come up with a slogan that he thinks spreads his message the best.
"We can't feed the world, perhaps we could feed your family."
Both have learned how to raise chickens through the internet, books and experience. The Cornish Game Hens are difficult to raise because they like to eat, the Dixons said. Judy Dixon said once the hens reach a certain size protein needs to be taken out of their diet or they will eat themselves to death.
The couple has facilities to accommodate up to 1,200 chickens, but will expand as their market grows. Gary Dixon said he would like to eventually come up with a website that shows his chickens.
J&G Chicken Farm is located at 531 Nelson Road in near Granger. Gary and Judy can be reached at 509-854-2601. For Spanish speakers, they can call 509-895-7558.