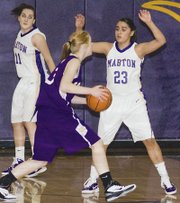 MABTON - Jazzee Sustaita scored all seven of her points in the final three minutes of play to help the Mabton Lady Viking basketball team hold on for a 49-34 home win last night over Columbia-Burbank.
Mabton got out of the gate quickly in Thursday night's SCAC East contest, leading the Coyotes 13-4 after one quarter.
"We just came out and took charge early," said Mabton Coach Chris McCallum.
The Lady Vikes' plans were disrupted, though, as Sustaita and teammate Adilene Barajas had to sit out most of the second quarter due to foul trouble.
As a result, Columbia-Burbank was able to nip away at the Mabton lead, which was 22-15 at the half.
By the end of the third quarter Mabton was up again by double figures, 34-24.
The Lady Vikes hit a scoring drought in the fourth quarter that allowed the Coyotes to get back in the game, down just 34-28 with just over three minutes left in regulation.
McCallum called a time-out to settle down his players.
"I told them to have confidence, to be patient with the basketball and get some defensive stops," he said.
Sustaita and company responded accordingly, outscoring Columbia-Burbank 15-6 the rest of the way.
Sustaita had a big three-pointer to spark the Mabton charge. While she scored seven of Mabton's 15 fourth quarter points, teammate Veronica Vasquez scored six of her 12 points in the final stanza as well.
"I was really happy with our intensity and defensive pressure," McCallum said.
The Lady Vikes have struggled at the free throw line all season, but last night shot nearly 60 percent from the charity stripe, canning 13-of-22 tries.
Crysta Reynolds led Mabton with a double-double, scoring 15 points, while climbing the ladder for 13 rebounds.
Vasquez also recorded a double-double, collecting 11 rebounds to go with her 12 points.
The Lady Vikes received a nice all-around game from Melissa Gutierrez with 11 points, six steals and four assists.
Sarah Rude paced the Coyotes with 12 points.
Mabton (4-3, 7-8) travels to Riverview tonight for a key SCAC East tussle. A victory would give the Lady Vikes the inside track on a District playoff berth.