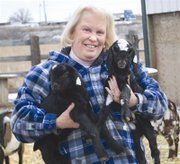 Creative scheduling is the key to an active life for Whitney Brown of Sunnyside, who has essentially three jobs.
She says she likes to keep active and has been a midwife for goats for several years. In addition, she owns and operates her own estate sales company and serves as a substitute nurse for two doctors.
Brown retired from full-time nursing last year. She enjoys being active in the community and her church.
Not wanting to sit idle, she works for a podiatrist and a pediatric dental surgeon when she is needed.
Brown was a surgical nurse when nursing was a full-time career, but she still had time to start her estate sales business in 1990.
"I don't sit down and relax," she commented, stating keeping busy is her way of relaxing.
In medical care, Brown said, she has seen a variety of patients with a variety of challenges. But, challenges inspire her to do more and to be more.
Her nursing experience also helps her as a goat midwife. She began raising her own goats several years ago and earned certification as a master goat rancher through Washington State University.
Brown said twins and triplets are common among goats, but this year she has seen two sets of quadruplets born. "It's fascinating work...those babies can get all tangled up and my experience in nursing helps me determine when a veterinarian is needed to help with the process," she said.
Not only does she breed her own milk and meat goats, she also works with two other area goat ranchers.
Brown said she coordinates breeding schedules with those ranchers so the does (female goats) aren't kidding (giving birth) at the same time.
She also coordinates the scheduling around fishing season and the demands of the goat market.
"I love the outdoors," Brown said, explaining she is an avid fisherwoman in her spare time.
In addition to her certification as a master goat herder and being a registered nurse, Brown furthered her education so she could own and operate Ivy Estate Sales.
"When the contents of a home need to be liquidated, I evaluate, appraise and price items to be sold," she explained.
Brown is a member of the Antiques and Collectibles Dealer Association, Inc. and her strength is in antique sales.
"I just like keeping busy," she said.