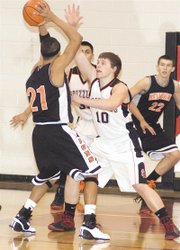 The Sunnyside Grizzly boys basketball team swept a pair of league contests this past Friday and Saturday to firmly plant itself in the CBBN 3A playoff race.
It all started Friday night with a 53-47 win at Southridge that saw the Grizzlies rally from a 10-point deficit in the fourth quarter.
Sunnyside and the host Suns were all tied at 24-24 at the half, before Southridge looked like it might slowly pull away.
The Suns led by five after three quarters, before going up by double digits early in the final stanza.
But the Grizzlies rallied by outscoring Southridge 19-8 overall in the final quarter. A high point came when a Trey Serl three-pointer gave the Grizzlies the lead for good at 42-41.
Grizzly Coach Ron Rowe praised his team's hustle on defense during the pivotal fourth quarter run. That included holding the Suns' all-everything Matt Mendenhall to just two points in the fourth quarter.
"The boys didn't panic, they kept chipping away and continued to keep the full-court pressure on them (the Suns)," Rowe said.
He praised the play of Serl and Eddie Salmeron on matching up with - and stopping - Mendenhall, who led Southridge with 17 points for the game.
Serl scored eight of his 11 points in the pivotal fourth quarter, while teammate Israel Manzo tallied six of his game-high 22 points in the final stanza.
Besides Mendenhall, Southridge was led by Derek Porter with 14 points and 11 rebounds.
Despite Southridge's height advantage, the Grizzlies were outrebounded just 32 to 30, as four Grizzlies each hauled down five boards: Greg Spini, Eric Amaro, Andrew Daley and Manzo.
Sunnyside followed up Friday's impressive finish with an even more dominating performance on Saturday, winning 64-45 at home over Kennewick.
The Grizzlies took control early with a 20-8 first quarter run on the way to a 37-18 lead at the half.
Serl scored 10 points in the first quarter and Manzo 15 in the second stanza to spark Sunnyside.
"We were able to use our defense pretty effectively and take advantage of their mistakes," Rowe said.
Daley sparked the defensive effort with three of Sunnyside's 15 steals to go with seven points and six rebounds. Spini and Serl swiped a pair of steals each.
Kennewick tried to make it interesting in the second half, as Sunnyside had to bench four key players (Jessie Leija, Manzo, Spini and Amaro) due to foul trouble.
The Lions got as close as 12 points early in the fourth quarter before the Grizzlies shut the door.
Manzo led Sunnyside with 25 points, followed by Serl with 16.
Bryce Leavitt paced Kennewick with 19 points and 10 rebounds, but the big man was held to just one field goal in the second half.
Besides Daley's six boards, Miguel Barrios also had six rebounds for Sunnyside.
The pair of victories, and three wins in the last four games, have vaulted Sunnyside (4-5, 6-9) into a tie for the league's sixth and final playoff berth.
"We're pretty excited about our outcome this past weekend, it gets us back into the thick of things."
It all sets up two crucial contests for the Grizzlies this week, as on Friday they travel to West Valley, just a game back of Sunnyside in the league standings.
Then on Saturday, Sunnyside will host Eastmont, which is tied with the Grizzlies for that sixth and final playoff berth.