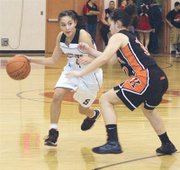 The Sunnyside High School girls basketball team continued its struggles this past weekend with losses against Southridge and Kennewick.
It was a tale of two halves in both contests as the Lady Grizzlies collapsed in the second half of both contests.
On Friday the Lady Grizzlies played Southridge in Kennewick and lost 54-27.
Sunnyside played well in the first half, being aggressive on defense and patient on offense.
"This allowed our offensive sets to create some opportunities for us," Sunnyside Coach Rick Puente said. "We took advantage of every opportunity we had. We had open looks and we were knocking down some shots."
The Suns led Sunnyside 14-10 after one quarter and 28-21 at halftime. That's when Sunnyside started to fall apart.
We gave up too many turnovers that crippled our effort to put points on the board," Puente said.
The Lady Grizzlies also suddenly found themselves in a shooting slump that even affected shots from close range and easy lay-ins. The Suns took advantage, outscoring Sunnyside 16-1 in the third quarter to post a 44-22 lead to start the fourth quarter.
"A lack of focus led to more opportunities for them than for us," Puente explained.
Marissa Correa had eight points in the game for Sunnyside. Ruby Herrera added six points. Vanessa Alvarez added five points. Melissa Alvarez contributed three points. Both Sydnee Hernandez and Monique Willingham scored two points, and Audi Sanchez had one point.
On Saturday night the Lady Grizzlies found themselves in basically the same situation when Sunnyside lost to Kennewick, 46-32. Sunnyside actually led 11-10 after the first quarter against the Lions, but Kennewick was able to battle back to take a 28-22 lead at halftime.
Again, Sunnyside showed patience on offense and was aggressive on defense in the first half.
"Overall, everybody was putting in effort, which allowed us to have a balanced attack," Puente said.
In the second half Sunnyside started out slow and soon began turning the ball over. This, Puente said, allowed Kennewick to get key buckets at crucial times.
"We talked about taking care of the little things at halftime," Puente said. "We were not successful in doing that."
Kennewick limited Sunnyside to just 10 points in the second half, which effectively shut down any rally attempt by the Grizzlies.
Herrera led Sunnyside with 13 points. Alvarez had six points. Willingham added five points. Amaro finished with four points. Sanchez contributed three points and Correa had one point.
Sunnyside (0-15) will travel to Yakima to play West Valley on Friday, Jan. 28. The Grizzlies will then host Eastmont on Saturday, Jan. 29.