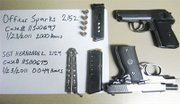 Sunnyside police yesterday (Sunday) at about 1 a.m. received a request for assistance from the Yakima County Sheriff's Office following a threat report.
Officers were on the lookout for a silver or gray vehicle last seen entering city limits east of Columbia Avenue and Swan Road. The suspects in the vehicle allegedly threatened an individual with a gun.
A silver Honda was located near Valley View Market in Sunnyside and officers stopped the vehicle due to its proximity to the scene and the time that had lapsed since the initial call.
Sunnyside Deputy Police Chief Phil Schenck said three subjects were located in the vehicle and they were removed and searched. That search, he said, resulted in locating a hand gun in the front waistband of Horacio Mancilla, 20.
He is a known convicted felon, as well as a member of a gang.
Witnesses were brought to the scene to identify the vehicle and occupants of the vehicle, but none of the subjects were believed to be the suspects involved in the threat.
Mancilla, however, was taken into custody and a requested charge of unlawful possession of a firearm first degree is being sought.
The weapon he had in his possession was registered to a police officer from the Tri-Cities, but it was not reported stolen. The officer told Schenck the weapon was broken and he gave it to a friend. He did not know where the weapon went after the friend had it.
Another incident yesterday at about 8 p.m. also resulted in the recovery of weapons.
Sunnyside officers were called to a residence on South 13th Street in Sunnyside in reference to a man, identified by police as Fernando Garibay, wanting to fight with his ex-wife's boyfriend.
Garibay, say police, allegedly pointed a pistol at several family members inside the home and fled the scene in a silver Toyota.
One of the witnesses located the suspect vehicle on Outlook Road and called police. Officers responded to the call and located Garibay at the residence.
A search of the suspect culminated in the location of a pistol in his pant's pocket. A 9 mm Mackarov was removed and cleared, said Schenck.
Garibay was taken into custody and police are requesting he be charged with alien in unlawful possession of a firearm, aiming a firearm, threats to do harm and knowingly making a false and/or misleading statement to police.
The weapon, said Schenck, was not reported stolen, nor was it registered to anyone.