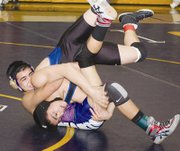 MABTON - Hosting its own wrestling tournament this past weekend, the Mabton Mid-Valley Classic, the Vikings scored 141 points to finish fourth at the 11-team tournament.
The tournament was won by Sunnyside High School's junior varsity squad with 168 points. Naches Valley came in second and Reardon grabbed third place honors.
The Vikings had three champions, led by Danny Magallon (119 lbs.). Magallon went 3-0 on the day, starting with a 44-second pin against Devin Daniels from Zillah High School's junior varsity. Magallon then beat Naches Valley's Francisco Rodriguez 8-0. He won the championship with a 13-4 beating of Nate Sorci of Reardon.
Vicente Mireles (125 lbs.) also claimed a championship for the Vikings with a 2-0 record. He beat Lady Aguilar of Naches Valley by pin in 1:59 in his first match. That put him in the finals, where he pinned Justin Sanchez (Zillah JV) in 20 seconds.
Fabian Ruiz (145 lbs.) was Mabton's last champion of the day. He went 3-0 on his way to the championship, starting with a win against Cody Cameron (Rainier) by pin in 14 seconds. Ruiz then beat Jacob Frazier (Naches Valley) 7-1 before coming back for a thrilling win against Waylan Anderson (Reardon) in the finals.
Ruiz was behind 7-4 to start the third period when he used three takedowns to tie the match at 10-10, forcing overtime. In the extra period Ruiz scored a takedown to win the match 12-10.
"He was also named Most Valuable Wrestler at the tournament, mostly for his come from behind win in the finals," Mabton Coach John Kilian said.
One Mabton wrestler earned second place honors. Eric Huesca (285 lbs.) went 1-1 on the day to claim the honor. He beat Brian Orndorff (Cle Elum) by pin in 51 seconds to get into the finals, but then lost to Sunnyside JV wrestler Ely Gonzalez, 3-2.
Mabton's Emilio Mireles (152 lbs.) and Rafael Martinez (189 lbs.) both claimed third place honors for the Vikings. Jerry Quesada (112 lbs.) and Carlos Rendon (189 lbs.) brought home fourth place medals for the Vikings.
"We did good," Kilian said of his team's performance. "We hung in there and took fourth place."
The Vikings will host White Swan on Tuesday, Jan. 25, at 7 p.m.