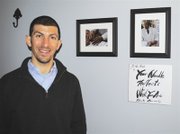 PROSSER - When it comes to his unique career, Prosser's new acupuncturist, Todd S. Turetsky, admits that his decision to study East Asian medicine had not been an easy one to make.
Turetsky and his family recently moved from Tucson, Ariz. to set up a practice at Tim Thompson's Chiropractic Clinic in Prosser, but it has been a long road for Turetsky, who says his career journey began in Florida.
In the early 1990s, Turetsky was a freshman at the University of Florida where he met a teacher that changed his life. At the time, Turetsky was planning on studying business, but felt conflicted.
"I was doing what society said I should do, but I didn't know what I wanted to do," he recalled.
But Turetsky's English 101 teacher, the late critically acclaimed African-American author James Haskins, had a profound effect on him. He recalls Haskin draping an arm around his shoulders as they walked away from their final class and Haskins saying, in a heavy Alabama accent, "Please, don't let them numbers take over your head."
"I knew I had to find something else," Turetsky said. "I just didn't know what else to do."
College became a time of introspection for Turetsky, but he says he was at a concert in Ohio when a grand epiphany struck him. By that point, he had already developed an interest in East Asian philosophy and acupuncture, but he had not seriously considered pursuing that interest until he was at the concert.
"There was a moment of freedom when I realized I could live my life the way I wanted to live my life."
Turetsky left the University of Florida, sold everything he had and went to California to study at Pacific College of Oriental Medicine, one of the top acupuncture schools at the time.
Turetsky practices a Japanese style of acupuncture called meridian therapy, a style he actually travelled to Japan to study. This style was developed in the early 1900s by a small group of Japanese acupuncturists in response to attempts at westernizing acupuncture.
These practitioners sought to return the rich classical tradition to their medicine and a style emerged that uniquely tailors each treatment to the individual being treated rather than standardizing treatment to a specific syndrome or disease.
He added, "The Japanese also use thinner needles that don't go as deep as what is typically employed in other styles."
Contrary to what some people may believe about acupuncture, the Japanese style should be painless. Turetsky says some patients may experience some discomfort but he always tells them, "If it hurts, let me know because the style of acupuncture I do, pain gets in the way of treatment."
In fact, the majority of patients find the treatments soothing. He recalls one patient telling him, "That was so much more relaxing than any massage I've ever had."
Turetsky admits that when he first meets a client it is impossible to know where the needles will go based upon the specific complaint. He needs to examine the patient and learn about their overall condition before he can create a plan for treatment.
That is why the acupuncture classics say, "Same disease, different treatment; different disease, same treatment," meaning treatment is applied to the entire being rather than a particular illness.
Mostly, Turetsky says he treats chronic diseases - they can be everything from pain, sleeping disorders, depression, migraines, anxiety, allergies, women's health issues, fatigue and autoimmune disorders.
He acknowledges that western medicine clearly has its place. "It's diagnostic and emergency care are clearly superior to any other system." But when it comes to most of the chronic disease that plague modern society, it tends to focus on symptom suppression rather than healing.
Asian medicine, however, thrives in the realm of chronic disease by focusing on the whole picture to bring about change in any one part of the presentation. The analogy that he frequently uses is that of a forest where he says, "In order to make any individual tree thrive one needs to focus on the health of the entire ecosystem."
The decision to go to school to learn the practice of acupuncture when he was still young has proved rather beneficial for Turetsky. He says that many of his classmates were older students looking to begin their second career. Acupuncture is Turetsky's first career and studying young means that today he has 14 years experience of being a licensed acupuncturist.
Since school, Turetsky put in 10 years working alongside Western medical practitioners. He began his career in a federally funded clinic in Mendocino County in Northern California and later moved to join an integrative practice in Santa Rosa, where he also taught acupuncture at Acupuncture and Integrative Medicine College Berkeley.
In 2007, Turetsky and his wife, Maitri, took their two daughters and went to live in India. They wanted to provide their children with a unique educational experience and expose them to another culture and way of life.
When the family returned to the U.S. in the summer of 2010, Turetsky worked at a Tucson, Ariz. college helping the university establish an acupuncture program, but when he came across an advertisement for an acupuncturist at Tim Thompson's Chiropractic Clinic in Prosser, Turetsky decided to visit the small Washington town.
"I just really liked it," he said. "When I came up I realized that acupuncture is needed here. There are a lot of people who are not being offered the kind of medicine that can be helpful for their conditions."
The initial acupuncture appointment will cost new patients $90, which Turetsky says covers the treatment and his exam. Subsequent appointments will cost $60 or clients can get five appointments for $250.
But if cost is a concern, Turetsky says that many insurance companies cover acupuncture care, though some may require a doctor's referral.
Tim Thompson's Chiropractic Clinic is located at 1209 Meade Avenue in Prosser. For more information, call 509-786-3637.