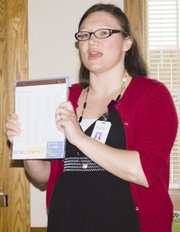 There are a couple of reasons Andrea Cloudt, dietician at Sunnyside Community Hospital, believes it is important to know how to properly manage weight.
She was the featured speaker at the recent Sunnyside Nouvella Club meeting.
Cloudt said weight management is often a concern of her patients.
January, she said, is a month when more people are concerned about weight loss. The average person gains one pound during the holidays and often resolves to lose weight in the New Year.
"Think about it...that one pound over 10 years is 10 pounds that haven't been lost," said Cloudt, stating most Americans do not shed the extra pound gained. Instead, the weight stays with them throughout the year.
"I emphasize portion control," she said, stating portion control can help an individual lose weight and keep the weight under control.
Cloudt said Americans experience problems with weight control because of such things as the consumption of convenience foods, large restaurant portions and the use of larger dish sizes.
"Serving food on larger plates can make a person believe they need more," said Cloudt.
She showed the Nouvella Club members the difference between what is now considered a dinner plate and a lunch plate. The lunch plate, she said, is the size of dinner plates several years ago.
Another plate Cloudt exhibited was a plate with sections for different foods. She said the plate can be useful because portion sizes can be managed in the sections. The different sections also point out the need for the different types of food that a person needs to maintain a healthy lifestyle.
"We eat everything we serve ourselves," Cloudt said of the American culture.
She said another common mistake made in American diets is the misconception that meat should be portioned to fill about half the plate. Realistically, a meat serving should only be the size of about one-quarter of the plate.
Cloudt said a fruit or vegetable and a starch should also be included in a meal, as well as eight ounces of milk or yogurt.
She said many attempt to lose weight through dieting, but dieting is not healthy because individuals believe they should deprive themselves. Deprivation is unrealistic, she said, because a person cannot stay away from certain foods forever.
Using cake and cookies as an example, Cloudt said a person will encounter these foods from time to time and it is best to ask for a smaller portion.
"Diets are temporary and people need to change their way of thinking," she said, stating a long-term weight management plan involves lifestyle change.
"A lifestyle change is a lasting change," said Cloudt.
She said a person making a lifestyle change can always get back on track if they make a mistake.
Cloudt reminded the Nouvella Club members that weight loss is difficult and it takes time. "The weight you are trying to lose came on slowly," she said, stating the weight will come off slowly.
She said anyone wanting to control their weight should be realistic, making attainable and measurable goals.
"Always have a goal," said Cloudt.
- Jennie McGhan can be contacted at 509-837-4500, or email
JMcGhan@DailySunNews.com