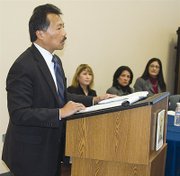 GRANGER - Nearly three months after it was handed down by a judge, federal officials were here yesterday announcing an injunction against Evans Fruit related to an investigation of sexual harassment.
The preliminary injunction was issued in October 2010 against Evans Fruit because federal officials said representatives from the company were trying to intimidate employees from testifying in a sexual harassment trial.
Tuesday's press conference in Granger was scheduled after the holidays, said William Tamayo, a regional attorney for the Equal Employment Opportunity Commission. He said if the injunction had been announced during the holiday season, then it might have gotten overlooked.
Though there are laws already on the books protecting workers from testifying in sexual harassment cases, Tamayo said the injunction serves as a further deterrant because it brings more penalties to bear against those who violate it.
Accusing Evans Fruit and its former general manager, Juan Marin, of creating an "environment of intimidation," Tamayo said additional measures were needed to protect employees.
Otherwise, he said, by the time the case went to trial there might not have been a case if Evans had been able to threaten or intimidate workers from testifying.
The purpose of yesterday's press conference, Tamayo said, was to get the word out to the public - and especially to workers - that it's safe to come forward with information or complaints regarding sexual harassment.
"If you have information, come forward and we'll protect you," added Carmen Flores, a senior trial attorney for the equal employment opportunity commission.
Tamayo noted the case against Evans Fruit and Marin is still several months from coming to trial. He noted the discovery phase in the case will continue through the end of this year.
Tamayo said the preliminary injunction is helping the equal employment opportunity commision case during this phase, as more workers have come forward since then with reports of sexual harassment at Evans Fruit.
- John Fannin can be reached at 837-4500 or at jfannin@dailysunnews.com