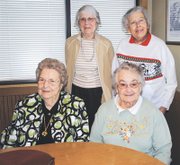 The Pearl Hughes Guild has worked to raise money for Seattle's Children's Hospital for the last 65 years, but the group is currently seeking new members and new ideas that will help this organization last another 60 years.
Last Friday four officers from the Pearl Hughes Guild met over lunch at the Sunny Spot Restaurant in Sunnyside in order to discuss business from the last year and new business for 2011.
These ladies have been dedicated members of the guild for several years - as many as 50 years revealed one member - but their purpose is far more important and impactful than most people know.
Since its inception in 1946, the Pearl Hughes Guild has had a focus on providing money, toys and other items for children at Seattle's Children's Hospital. At one time they held a successful and wildly popular antique show in Sunnyside, as well as a penny drive. One member knitted caps for premature babies, they recalled, and another made finger puppets.
It is that sort of ingenuity, creativity and drive the Pearl Hughes Guild hopes new members will bring to the group.
Currently, the guild raises money through collecting membership dues, recycling and selling Seattle's Children's Hospital calendars at Scissor City and Neva's Beauty Salon in Sunnyside, but even those efforts have lost momentum over the years. At one time, the guild ordered 150 calendars, but they now only sell 50 of them.
"But we have people who really look forward to them," guild member Betty George says.
Though interest in the guild may have waned over the years, members know how important it is that they continue their work, especially with state budget cuts.
One trait of Seattle's Children's Hospital is that they are able to provide families with financial trouble affordable or free medical care.
Edith Fischer, a member of the guild for the last eight years, says she knows the value of the hospital first hand. Her daughter had a free surgical procedure at the Seattle's Children's Hospital when she was 14 years old.
Joyce Carter, another long-time member, says she has seen two grandchildren and a great-grandson become patients at the hospital.
To put it simply, the Pearl Hughes Guild is about helping children and it has established a legacy the fine ladies of the guild hope will continue for several more generations.
The guild meets at Sunny Spot the third Friday of each month at 11:30 a.m. and they invite anyone interested in the Pearl Hughes Guild to join them.
- Emma Fierro can be contacted
at 509-837-4500, or email
EFierro@DailySunNews.com
&nbsp