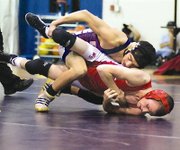 MABTON - The Mabton Vikings out-wrestled the White Swan Cougars last night (Tuesday) in Mabton's last dual meet of the season, beating the Cougars 38-22.
Only six matches were contested as the other eight were either settled by forfeits or by no matches at all.
Neither team fielded a wrestler in the 103-lb., 125-lb. and 215-lb. matches. Mabton's Jerry Quesada (112 lbs.), Brandon Marquez (145 lbs.) and Fabian Ruiz (152 lbs.) all received forfeits. Mabton had to forfeit the 140-lb. and 171-lb. matches.
The Vikings picked up their first win in the 119-lb. match when Mabton's Danny Magallon pinned Ryge Bailey in 1:59. Vicente Mireles (130 lbs.) then beat White Swan's Andrew Phillips by a technical fall, 19-2.
The Cougars got on the scoreboard when Hugo Barajas (135 lbs.) came from behind to defeat Mabton's Damian Diaz by a pin in 5:57.
Mabton Coach John Kilian said Diaz was leading Barajas 6-2 after the first round. Barajas then outscored Diaz 5-0 before securing the win with a pin with three seconds remaining in the match.
The Cougars picked up one more win in the 160-lb. class. Mabton's Mario Cardenas was bested by Lucas Hernandez 9-0.
The Vikings got the last two wins. Carlos Rendon (189 lbs.) pinned Niko Nanez in 1:22. Eric Huesca (285 lbs.) then beat Derrick Nanez 8-6.
"It was a pretty laid back match," Kilian said of last night's contest. "We knew there wasn't going to be a lot of matches."
Mabton (3-3, 5-6) will send some of its wrestlers to the Zillah All-Comers tournament this Saturday, while others will stay home to rest. The Vikings begin District competition on Saturday, Feb. 5.
- Corey Russell can be contacted
at 509-837-4500, or email
CRussell@DailySunNews.com