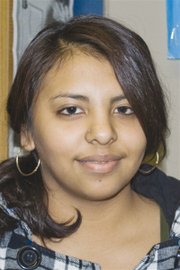 Foster children often feel abandoned and lonely when holidays roll around. With Valentine's Day just around the corner, Marycruz Orduno of Grandview High School wants them to feel the support and love of the community.
That's why she has chosen to ask the community for toys and gift cards for children in the foster care system. The project is the community service element to her senior project.
Orduno has been working with Service Alternatives in Sunnyside, learning about the ins and outs of placing youngsters in caring foster homes. Her desire is to seek a degree in social work.
For her senior project, she is hoping the community will help provide toys for children as young as 6-months-old to teens.
Orduno said infant and toddler toys, teething rings, action figures, dolls, Harry Potter books or movies, Justin Bieber or Hannah Montana memorabilia have all been requested from the 19 youngsters she is hoping to help. There have been requests for video games for the Nintendo DS, Wii, PS2 and PSP. There are a couple of teens for whom Orduno hopes to secure gift cards.
"I am also hoping baskets can be donated," she said, stating she wants to design gift baskets containing the items.
"I just want them to have a nice Valentine's Day gift," Orduno said.
She is accepting donations for the project through Friday, Feb. 11. Donations can be left at the office of Service Alternatives, located at 536 E. Edison Ave. in Sunnyside.
Further information can be obtained by contacting Erma Medina at 836-0214 or via email at ezambrano@servaltinc.net.