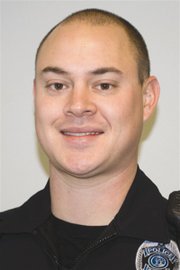 Sunnyside Police Officer Scott Orate and Corrections Officer Andrew Gutierrez are two of the city's finest. And, both hold strongly to the belief in supporting fellow officers and representing the police department in a professional and positive manner.
Towards that end the duo wishes to establish an honor guard made up of a group of Sunnyside police officers.
Orate said the pair has in recent years attended funerals for law enforcement officers across the state. However, they desire to be more than spectators when attending funerals to honor their comrades.
"We want to be participants...we want to help in whatever way we can," said Orate.
Last August, Orate and the Sunnyside Police Explorers had the opportunity to serve, directing traffic at the funeral service for Washington State Patrol Trooper Gary Miller, his wife and Communications Officer Anne Miller-Hewitt and fellow WSP Trooper Kris Sperry.
"I think that made me feel better," Orate said, stating he enjoyed having the opportunity to show respect through service.
Because of experiences like that one, he feels an honor guard would help serve the same purpose.
An honor guard, however, doesn't wear a regular duty uniform. The uniform of a member of the honor guard is a dress uniform. Orate said honor guard members carry parade rifles and wear a holster designed for the uniform.
The equipment costs approximately $1,500 per officer, according to Orate.
Because of the expense, he and Gutierrez are seeking community support to cover the costs of establishing an honor guard to represent Sunnyside and its police force.
The officers who join the honor guard will do so on a voluntary basis.
"The goal is to have between four and six members on the honor guard," he said, stating the number of officers who serve on the honor guard is dependent on the support of the community.
In addition to attending funerals, the honor guard will take part in posting the colors at meetings, sporting events and conventions.
There are several donor levels, but Orate said he and Gutierrez welcome any financial support community members are willing to provide.
For more information, or to let Orate know you would like to contribute to the honor guard, contact him via email at sorate@ci.sunnyside.wa.us.