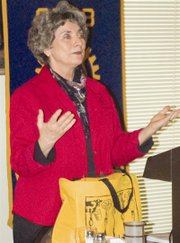 Mary Jo Mengarelli, a public health administrator for Yakima Neighborhood Health, was the featured guest speaker at Monday's Sunnyside Noon Rotary Club meeting and explained the WIC program offered at her agency.
Yakima Neighborhood Health has offices in Sunnyside and Yakima.
WIC stands for women, infants and children, Mengarelli said, and the program is designed to help family food budgets based on need and income. For instance, a family of four earning up to $3,400 a month would qualify for the program. A family of two making up to $2,247 a month would also qualify.
The program, Mengarelli said, is designed for people that are working.
She said the program is more specific than other food programs available, such as food stamps, because only certain kinds of foods are allowed to be purchased. She said the WIC checks cover a variety of low-sugar cereals, vegetables and fruit, low-fat milk, eggs, cheese and whole grain products such as bread or tortillas. Each WIC client receives approximately $50 in monthly checks.
In the summer months, WIC clients can receive checks to purchase food at local farmers markets.
According to 2009 facts, Yakima Neighborhood Health served 8,211 infants and children under the age of five and 2,881 pregnant, breastfeeding or postpartum women that year.
The mission of the program is to emphasize healthy habits so families can eat better and stay active to prevent obesity and other chronic diseases. The program also promotes breastfeeding for at least the first year of a child's life and helps working mothers breastfeed longer by providing breast pumps. The program also gives parents ideas for healthy snacks and by stressing dental care when the child reaches one year.
WIC and the farmers market nutrition programs benefit the local economy, Mengarelli said. In 2009, local WIC clients spent $4,753,252 at local grocery stores in Sunnyside and Yakima. The farmers market program paid out $32,422 to local farmers.