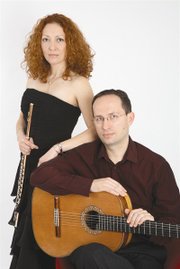 The Lower Valley Concerts Association will present its second concert of the 2010-11 season on Sunday, Feb. 13, at 3 p.m., at the Sunnyside High School auditorium, with a performance by Cavatina Duo, an internationally famous guitar and flute duo.
Cavatina Duo includes the husband and wife team of Eugenia Moliner, from Spain on flute, and Denis Azabagic from Bosnia on guitar.
One journalist described the couple as "(T)he best flute and guitar duo in the world today."
The duo's repertoire includes music from the Baroque, classical, Romantic and contemporary periods and is often inspired by the folk traditions of their native lands of Spain and the Balkans. But also expect some fantastic Spanish guitar!
Moliner has been acclaimed as a "brilliant young musician" by the British Flute Society magazine. She has performed with the Chicago Symphony and Rotterdam Philharmonic, and she has been featured on radio and television programs in Spain, the Netherlands, Taiwan and the USA. She has recorded four CD's.
Winner of no fewer than 11 international competitions, Azabagic has been described as a "virtuoso with flawless technique" by Soundboard Magazine. He has appeared as a soloist with the Chicago and Madrid symphonies. He has recorded seven CDs, two DVDs and he has authored a book entitled, "On Competitions-Dealing with Performance Stress." He is a member of the guitar faculty at the Chicago College of Performing Arts of Roosevelt University.
Season tickets to the concert series is $50 for adults and $100 for a family of four. Student tickets are $15. Students up to the age of 18 can attend individual concerts for $5.
For more information about LVCA membership, call Liz Donaldson at 509-786-3070; or go to: www.lowervalleyconcerts.embarqspace.com.