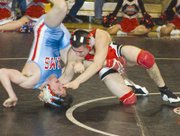 For perhaps the first time in school history, the Sunnyside Grizzly wrestling team shut-out an opponent, blanking West Valley 75-0 at home last night, Thursday.
"You don't see a skunk very often in wrestling," said Sunnyside Coach George Paulus. "I don't think we've ever had one before in Sunnyside."
After the visiting Rams surrendered a forfeit to start the match at 119 lbs., Sunnyside's Daniel Guillen (125 lbs.) prevailed in the night's closest match, a 6-3 win over Laith Saldana.
In the 130-lb. match, Isaac Guerrero pinned West Valley's Keanen Darvyson in 1:47 and Sunnyside's Isidro Ramirez (135 lbs.) followed with an overwhelming 19-4 victory over D.J. Stai.
After West Valley surrendered a forfeit in the 140-lb. match, Sunnyside's Josh Romero (145 lbs.) won 9-6 over Preston Baich, the state's top-ranked 3A wrestler in that weight class. It was Romero's first match at 145 lbs., after previously wrestling at 160 and 152 lbs. this season.
Miguel Madrigal (152 lbs.) kept the winning going for the Grizzlies, as he pinned Mark Bradley in 5:13.
West Valley issued a forfeit to Sunnyside at 160 lbs.
The Grizzlies' Lupe Mendoza (171 lbs.) followed with a pin in 1:42 over West Valley's Max King.
Daniel Avalos came up with a pin for Sunnyside in the 189-lb. match, deciding the contest at 4:41 over Luke Smith.
At 215 lbs., Franki Ochoa of Sunnyside pinned Conner Desgroserllier in 44 seconds. The Grizzlies followed with yet another pin, as Adam Peters (285 lbs.) pinned Colton Gurney in 4:23.
After the Rams issued a forfeit at 103 lbs., Sunnyside's Santos Guerrero (112 lbs.) ended the night with a 15-5 major decision over Lane Bruland.
Sunnyside (9-0) will wrap up the regular season tomorrow, Saturday, at home with a double-dual meet against Eisenhower at 10 a.m. and Davis at noon.
With the regular season league title already wrapped up by the Grizzlies, Paulus said the goal tomorrow is two-fold - complete the regular season undefeated and stay healthy for the post-season.
"We just want to wrestle well, intelligently, and not get any injuries," Paulus said of tomorrow's regular season finale. "We'll keep it straightforward, polish up a few things and just do the job."
- John Fannin can be reached at 837-4500 or at jfannin@dailysunnews.com